Discover more from Productive Flourishing
A newsletter and community for driven possibilitarians who are seeking full-spectrum thriving, hosted by award-winning, best-selling author of Start Finishing, Charlie Gilkey.
Over 33,000 subscribers
How to Limit The Busyness In Your Business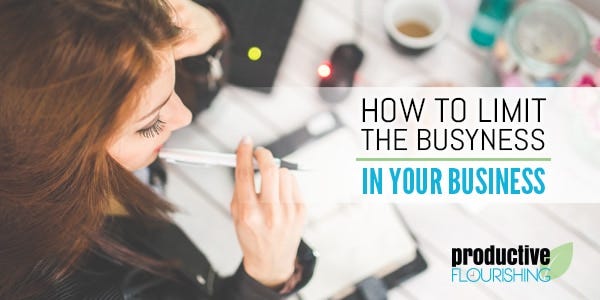 [audio mp3="https://productiveflourishing.com/wp-content/uploads/2011/05/InterviewWithMarissaBracke.mp3"][/audio]
Ever notice that the thing you most want to do in your business is the thing that's the hardest to find time to do? It's easy for the busyness of business to take over and make it such that every day, it seems like you're getting further and further from the core of your business.
It's not just you. And if it isn't you at all, that's awesome.
Marissa and I decided to jump on the phone and talk about finding the space for that thing since that's one of ways we work with each other and our clients. In this almost 30 minute long conversation, you'll hear about:
How busy-ness develops and what it has to do with clarity (or a lack thereof)

Why the 80/20 principle isn't actually what trips us up--and what it is that does

The difference between productivity and effective action

Why finishing a project can be difficult and what happens after completion

How to identify tasks that "need" your attention and that "want" your attention--and how to use them to build momentum

What are sugar tasks and how to use them to boost your effective action

Why it seems like everything on your to-do list is important and the practice you have to develop to work effectively with your task lists

"Marissa's Tip of the Day" - a quick activity to immediately reinvigorate your to-do list
If you'd like to see and hear more of these types of conversations, let us know by leaving a quick comment. It's fun for us, too.