Discover more from Productive Flourishing
A newsletter and community for driven possibilitarians who are seeking full-spectrum thriving, hosted by award-winning, best-selling author of Start Finishing, Charlie Gilkey.
Over 33,000 subscribers
How to Identify and Remove Productivity Leeches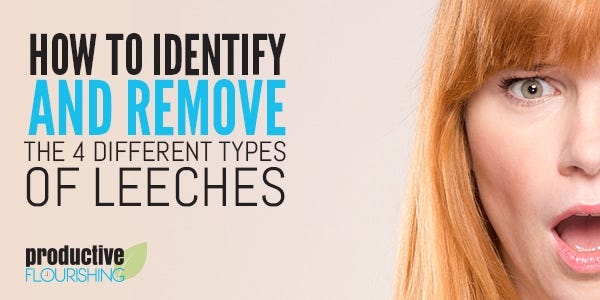 Table of Contents for This Series
How to Identify and Remove Productivity Leeches
This is part two of a three part series on the Identification and Removal of Leeches. This part covers productivity leeches: those people who constant drain your productive time.
How to Identify and Remove a Productivity Leech
Description: Productivity leeches are people drain your productive time. They commonly poke their head in your office while they are "on break" or are otherwise unproductive and interrupt you while you are not on break or are otherwise productive.
1. Recognize that you have a leech on you.
It's sometimes hard to recognize that you have a productivity leech because your coworkers are often sounding boards for your ideas or issues. The way to determine whether you have a productivity leech is to ask whether you ever get anything of value from them or to ask whether your meetings are productive. If you never get anything from the exchange with the person or your meetings are never productive, then odds are you have a productivity leech.
2. Find out where it's located.
Productivity leeches attach themselves either physically or virtually. They attach themselves physically by squatting in your otherwise productive space and draining your attention from whatever you are working on. They attach themselves virtually by monopolizing mediums of productive exchange (email, IM, or phone) and distracting you from whatever you actually should be working on.
3. Calmly and methodically remove the leech from your work areas or work times.
If the productivity leech is attached physically, set up roadblocks that make it harder for them to "pop-in." Here are some possible techniques to do this:
Wear headphones, even if you aren't listening to music. Face your work area away from the door, and ignore them if they just "poke in." Generally, people who have an agenda will make their presence known, but people looking to leech will find an easier host to leech from.

Set open door hours for people to pop in and talk to you, but otherwise keep your office door shut. Let the colleagues that aren't leeches know that they can just pop in, but have a pretty high barrier to entry to keep the leeches at bay.

Arrange the furniture in your office such that it's awkward to sit in unless you remove some obstacles. Leave papers, coats, or boxes that are easy to move in the prime locations in your office. Remove the boxes for everyone but the leeches, so that they have to sit facing the sun, sit awkwardly, or in general have difficulty comfortably nesting in your space.
If the productivity leech is attached virtually, your task is much easier. Turn your cellphone off or put it on silent and screen your calls (but make sure you program important numbers so that the people you need to answer can get through). Have your profiles show "offline" for IM, if you must keep it on, and only talk to those who you know aren't leeches. Only check email a few times a day, and don't spend much time dealing with those who you know are leeches.
If you approach the productivity leech the wrong way, it may regurgitate on you and make you look like a general ass. It may also go out of the way to mess up your productivity by sending people your way, playing loud music, talking outside of your office intentionally, or spamming you with email and calls. The key thing to remember is that these people are looking to waste their time, so they have nothing to lose by harassing you, but you have a lot to lose by being harassed.
4. Once the leech is detached from you, get rid of it immediately, as it will try to reattach itself.
The leech will continue to attempt to attach itself to you, since it may think that your deal about being productive is only because of some unique pressing deadline. Build systemic strategies that reinforce your work area or times as leech-free zones.
Notes:
A productivity leech will feed on you for as long as it can or until it absolutely has to get back to work. At that point, it will return to its work or go home, as it has wasted as much time as it can until the next day.

The relatively small amount of time drained by a productivity leech will not cause you to far too far behind. You will adjust and accomplish what you need to after you rearrange some of your other tasks. The aggregate effect of many productivity leeches may drain you of all of your productive time and may cause career frustration. Note that this type of leech carries with it a strain of vampirism, such that entire departments or management teams become productivity leeches.

Productivity leeches require a relatively productive, efficient person on their team to support them, as they generally do not produce enough to justify their paycheck. They are generally found lurking by the water cooler, the break room, or the smoking spot.

Productivity leeches are incredibly perceptive at finding out who the workers and slackers are and may gravitate toward the slackers. Stay productive and avoid them until the management figures out they hurt the bottom line and replaces them with goal-driven temp workers or until you get promoted and can either get rid of them or find out what they bring to the table and harness that.
The concluding part of this series covers How to Identify and Remove Financial Leeches.