Discover more from Productive Flourishing
A newsletter and community for driven possibilitarians who are seeking full-spectrum thriving, hosted by award-winning, best-selling author of Start Finishing, Charlie Gilkey.
Over 33,000 subscribers
How to Celebrate During COVID-19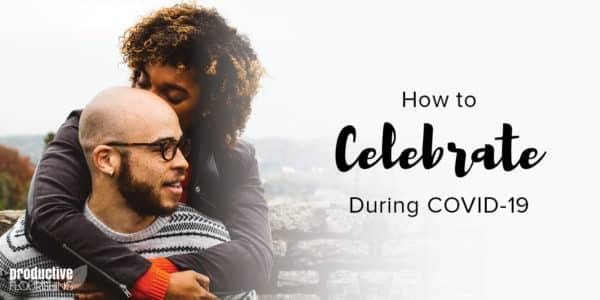 May 7 was our 17-year "we got married" anniversary. I call it our "we got married" anniversary because we didn't have a wedding. We had a short ceremony with just the two of us and the officiant at the courthouse, and then told our family and friends we were married.
There were so many reasons at the time why we didn't want to have a wedding. No matter what we call our anniversary, or how we went about getting married, it's a significant and important day to us.
As a bit of an aside, September is our "we got together and are a couple" anniversary and will mark 23 years we've been together. In many ways that day is more significant to us, but I'll be honest… I like to celebrate both. ;-) I love me a celebration!
Charlie and I were wondering last week what we would do this year to celebrate our anniversary since COVID-19 has everything shut down. It became clear to us that it was time for some creative planning.
Celebrations, Interrupted
Every one of us at some point during this COVID crisis has either had to cancel or forgo a special celebration or ceremony (or will have to at some point). For some of us, those canceled plans have been a minor challenge or annoyance or small sadness, and for others of us, those changed or canceled plans have brought real heartbreak and caused deep pain.
What I hope that each of us has been reminded of on this journey through COVID is that while we are each on this road together, the way one thing impacts someone may look completely different on someone else. Please remember not to judge yourself or anyone else if the way you or they are reacting to something looks different than you think it "should."
Just in my own life I know people who have had to (or in some cases chosen to) forgo a funeral for a loved one, cancel a wedding, had their graduation postponed indefinitely, were unable to celebrate big milestone birthdays and anniversaries with friends and family, canceled once-in-a-lifetime vacations... and the list goes on.
In a very real way, celebrations bond us with those we love. Coming together to celebrate someone's life after they have passed, or the birth of a new baby, or graduation from a program, or another year of commitment and love to a partner are all significant and important milestones in our lives.
Creative Ways to Celebrate Now
While it is true that we may need to cancel or change our plans for celebrations during COVID we can still find ways to mark important moments and I think we should. We need celebrations right now; those reminders of the good things in our lives.
You can still plan for the big, blow-out celebration after the social distancing orders have been lifted, but what can you do now to still mark and celebrate those days that are important to you and those you love?
I want to give a few examples of creative ways people I know have chosen to mark celebrations, as well as give some other ideas for ways you might be able to celebrate a day that is special to you or your loved ones.
A friend who had someone important in her life pass away during COVID and was unable to travel to attend a service set up an online remembrance of life and invited her friends and community to support her. She was able to honor her loved one with the love and support of her community. There may be another service at a later date, but it was important for her to be able to honor this passing and transition now rather than indefinitely holding for a service.
Another friend set up a birthday party for a family member via Zoom. They sent party hats and confetti and other party supplies to those who were joining ahead of time and asked them to also grab their favorite treat if they were able to do so. As well, some people sent the birthday presents they were going to give in person to the birthday boy ahead of time. Then, on the special day, they all gathered together to celebrate his birthday. He opened presents, they sang happy birthday, they ate cake together/separately, and then shared some of their favorite memories of him.
If you have a friend or family member that is missing out on a graduation ceremony, perhaps you can work with a few friends to set up your own online ceremony for them in place of the physical ceremony that may happen at a later date. Have someone present them with a "diploma" and announce to family and friends that are able to attend online what the person's plans are for after graduation. Send gifts via delivery or drop them off. Play the "graduation walk" music and invite neighbors to watch the graduate walk down the driveway to receive their diploma.
If you have an anniversary coming up and were planning to take your partner to your favorite restaurant and to visit where you first met, can you still make that happen in a different way? Perhaps you can make a version of the menu at that restaurant and make a few of your favorite dishes. Maybe that restaurant is actually providing take out right now. If the place you wanted to visit where you first met is currently closed or you're unable to get there, you can make your living room or backyard look a little more like that place. Add lights, music, candles, whatever might help take you both to that place emotionally and even actually go there in your minds.
If you are missing out on your friend's 21st birthday and you had always planned to have your first legal drink together, change it up a bit. Perhaps you are both able to get a hold of your favorite drink and make a plan to Facetime each other that evening and toast to the birthday girl, share a drink, listen to music, and dance together separately. Set up your living room to be your night club. Even better, you don't have to worry about a designated driver! ;-)
While you may not be able to celebrate special occasions in the way you had planned, I do believe that finding creative ways to still celebrate can be very healthy and supportive right now. You can still have that big get-together with your friends and family later, but right now I encourage you to make the time now to mark what is special and significant to you and your loved ones. Show yourself and those you love that what was special before is still special now. And keep nurturing those relationships. It matters!