Discover more from Productive Flourishing
A newsletter and community for driven possibilitarians who are seeking full-spectrum thriving, hosted by award-winning, best-selling author of Start Finishing, Charlie Gilkey.
Over 33,000 subscribers
Turning "How" Problems into "Who" Solutions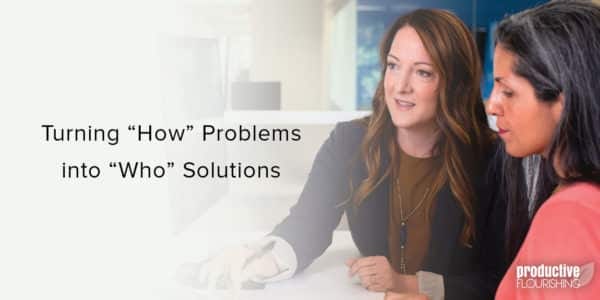 The first question most people ask when they have a problem is "How will I solve this?" We're conditioned to go it alone, to figure out how to do everything ourselves, and to ask for help only after we've exhausted our own resources and capabilities.
That mentality is overwhelming, and it's isolating. Instead, we need to learn how to turn "how" problems into "who" solutions. When you come across a problem, replace the question "How will I get this done?" with "Who can I ask for help?"
This requires letting go of the idea that you have to do everything by yourself. Instead of spending hours sifting through videos on YouTube to learn how to build a retaining wall in your garden, call the friend who's a landscape architect for advice. Instead of struggling to find time for your creative work, figure out who you can tap to take things off your plate.
I get a lot of pushback on this idea from people who view asking for help as taking from someone or creating a debt they'll have to pay back. Asking for help can feel like a whole massive project on its own, and it seems easier to do something yourself than to overcome the resistance to asking for help.
And I get that. I've spent years learning how to ask for and receive help, and I still have a ways to go.
The thing we forget, though, is that when we ask other people to help using their unique contributions, we're offering them a chance to do more than give us a thumbs up on the work we already did. We're telling them that we see — and value — what they have to offer. Being asked for help is validating. It ties into our purpose, our sense of mastery.
What if you viewed asking for help as a way to truly honor someone's contribution and best work? What if you saw it as an opportunity for someone to give you a gift — a gift they've been waiting for the right chance to give you? (Tweet this.)
Finding your "who" solutions
Start by considering who has already offered you help. Chances are, people around you have already raised their hands, but you've missed them because you were too focused on going it alone. Think of the neighbor who offered to water your houseplants while you're away or the expert you met at a networking event who said, "call me if you ever want to talk more about this."
Our head trash tells us that these kind souls didn't actually mean it, but they did. They are trying to offer you a gift; be gracious and let them contribute.
Take a look at who you've tapped for your success pack. Which of your guides can you look to for advice? Which of your peers could you collaborate with? Which of your supporters would be willing to step up and help? Which of your beneficiaries could take on a role with this project?
Finding "who" solutions might also be a matter of hiring help. If administrative tasks are slowing down your progress, hire a virtual assistant. If you don't know how to market your book or break into a new market, hire a consultant. If you're struggling to "have it all" with home and work, hire a house cleaner.
It's your turn to put this into practice. What's the big "how" question that's been blocking you? Remember, you don't have to go it alone. Brainstorm a list of people who could help you, then — and this is the most important step — reach out.
Who will you ask for help today?
If you want to learn a little more about Success Packs and setting up your own, grab your copy of Start Finishing today. The e-book is FREE right now, for a limited time.
If you need a little help asking for help or aren't quite sure where to go, a good place to start is our PF Community over on Mighty Networks. It's filled with other helpful Creative Giants just like you, who are ready to offer their expertise, suggestions, and support to help you move your best-work project forward.