Discover more from Productive Flourishing
A newsletter and community for driven possibilitarians who are seeking full-spectrum thriving, hosted by award-winning, best-selling author of Start Finishing, Charlie Gilkey.
Over 33,000 subscribers
At Home Wherever You Are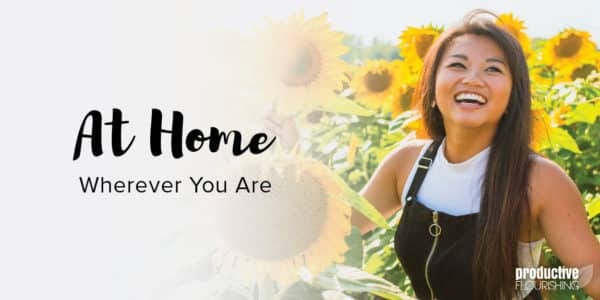 Wherever you are you are home.
With so much change and uncertainty in our world today it's important for us to have a home where we can feel safe, comfortable, and nourished.
If we are fortunate, we have a physical location (a house or apartment or other structure) that feels like home. Some are fortunate enough to have more than one physical location (perhaps a friend's house or where your parents live) that feels like home.
An ideal home is a place where we feel at peace. It's a safe harbor, a shelter from the literal and metaphorical storms of life.
What if you were to consider yourself as your true home? You as your true home.
You are your constant.
If you consider yourself as your true home and treat yourself as you would a home that nurtures you, you will always have a safe harbor. Wherever you go in the world, whatever situation you may face, you will always be home.
And, if our ideal home is our refuge, our constant in an ever-changing world, it's up to us to honor and respect it so that it can serve as what we need.
To be able to count on ourselves to be our true home we have to take care of ourselves, just as care and maintenance is needed to keep up with a physical location that we call home, so it is the same for us.
How are you taking care of your true home? How are you tending to yourself in a way that allows you to know that you can always count on your true home?
Homes need a solid foundation. How are you keeping up with your foundation? Your foundation could be considered the core ways that you care for yourself. It could include food, exercise, meditation, play, sleep, and so many more things that you find necessary for a strong foundation.
For many of us an ideal home is clear of clutter and chaos. How are you keeping your true home clear of things that are not ideal?
Are you taking in too much news or social media in a way that creates unrest or clutter in your mind or heart?

Perhaps you know that exercise or meditation are what help you clear your body, heart, mind, and soul of the junk that comes in?

Are you spending time with people that fill you up in a good, positive way or are you spending time with people that add to the chaos that causes unrest for you?
Imagine feeling at home wherever you are. Being able to find your center in the swirl that is surrounding you at times. Being able to go inside and find your foundation no matter where you are or what is happening outside of you. How wonderful would that be?
The world will continue to change at a rapid pace and we will continue to have much asked of us. Perhaps honoring our relationship with self as our true home will allow us to bravely engage in the world, knowing that at any time we are safely home.