Discover more from Productive Flourishing
A newsletter and community for driven possibilitarians who are seeking full-spectrum thriving, hosted by award-winning, best-selling author of Start Finishing, Charlie Gilkey.
Over 33,000 subscribers
The Need to Help and Help Is Needed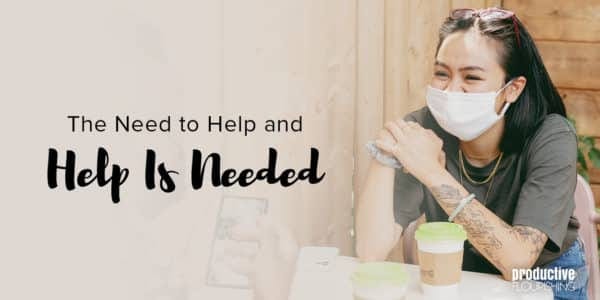 Note: This post is for those who know they have a bit of time (or maybe a little more) that they are wanting to give to their community in some way, but just need a little extra help to find a fit.
I am a member of a small group that generally meets once a month to support one another. (The type of group isn't important for this particular post, but I did want to acknowledge where this idea came from.)
Our group met in a COVID-safe way this past weekend, and while we were sharing with one another, I noticed that several members of our group talked about wanting to do more to be of service right now, but just had no idea where to start.
Several members of this group are retirees and so they are finding themselves with more time now than they used to have and unable to do some of the things that were so meaningful to them prior to COVID, including the ways they used to volunteer and serve.
When I looked around the group I saw beautiful souls with hearts of service longing to help and do their part in their communities but overwhelmed and stuck with where to start.
I imagine they are not alone in how they are feeling.
Maybe you are someone who just isn't as used to navigating the internet and don't know where to even start to find a COVID-safe volunteer opportunity.
Or, you are just overwhelmed with all you are now having to do online and don't have the energy to find the right-fit way to help in this moment.
Or, you want to find a volunteer opportunity for yourself or your child or your partner, and while it is important, it just hasn't made the top of your list because you are so focused on the day-to-day.
Or, you have been so emotionally overloaded because of all that is going on in the world right now, and you want to help, but you just need someone to point you in a direction so you can go do the work now and not spend a ton of time researching.
Or, whatever else it may be. I wanted to pull together some options and opportunities where you can go directly to the link and get started.
The reality is that so many people want to help and there is an enormous amount of help needed in your own community right now. Every action you take to help in your community matters. It fills your cup and the cups of so many others.
There are more volunteer opportunities out there than will ever be filled. Volunteer for a cause that matters deeply to you. Your community needs you and your support and you need the fulfillment that comes with being of service. It really does feel good to know you made a difference. And make no mistake, that one tiny action does make a difference.
Below are some places you might want to take a look if you are looking for a way to volunteer your time or help a retiree in your life find volunteer work or get your kids involved or you're part of a group that wants to give back:
This is only a small list of possible places to find volunteer work. It is in no way exhaustive or comprehensive. Those above are national sites that can link you up with volunteer opportunities close to home. Please know that most towns, cities, and regions have sites, as well. For instance, here in Portland, Oregon there is Hands on Portland.
I realize that this post may only be helpful for a few people and that is OK. It's not meant for everyone. If it helps just a few people find an opportunity to help in their community in some way, I am more than happy and excited about that. Every little thing we do to help build our communities matters.
I also want to lovingly and with no judgment say: if you are in a place where volunteering is not even on your radar right now… that is OK. You are OK. There is nothing wrong with that or you. So many of us are doing our best right now to just make it through. Please, please keep your focus on taking care of yourself and your loved ones. That's service, too, and it matters in a BIG WAY!