Discover more from Productive Flourishing
A newsletter and community for driven possibilitarians who are seeking full-spectrum thriving, hosted by award-winning, best-selling author of Start Finishing, Charlie Gilkey.
Over 33,000 subscribers
Crying Over Spilled Milk: How to Grieve Well and Rise Strong from Failures and Losses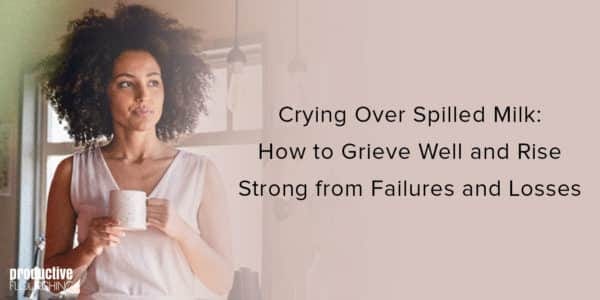 I was standing in the checkout line at Trader Joe's when it happened.
Milk dripping from a carton at the bottom of my shopping cart… a pool of white, forming on the floor, like a visitor unannounced at my door.
Jovial as usual, I joked with Bob, the cashier, "Well, no use crying over spilled milk!"
We both laughed as he called for help to wipe the floor.
And suddenly, I burst into tears. I stood there, weeping, taken aback by the randomness and intensity of the emotions I was experiencing.
"What the heck?" I thought. "Maybe I am just having a hard day..."
I tried to laugh it off, but I couldn't stop crying.
Bob got out from behind his register, beckoning me to follow him. Sobbing and somewhat embarrassed, I walked behind him as he guided me to the flowers section of the store. Smiling, he gently waved at the colorful bouquets.
"Pick any flowers you want. It's on me." Stunned by his kindness, I mutely pointed at a bunch and began openly crying again.
I shuffled back to the checkout line, thanked him again for his kindness and generosity, and left the store in a daze.
"Uh, what the heck just happened?" I thought to myself.
And then it hit me like a wave… grief.
When Grief Barges In
Ah, grief…
Like the milk from the carton, my grief had finally found a way out after all these years. Years of freefall from divorce, homelessness, physical assault, death of a stepparent, previous failed attempts at business, financial destitution, loss of friends and community from a cross-country move, initial denial of certification for a program I had invested several intense months of training to name a few…
All of these traumatic events happened in quick succession, some occurring simultaneously — blow after blow, day after day. Research says any one of these traumatic life events would have been crippling and devastating to anyone and validly so. But I was a tough cookie, trained in mental toughness and emotional resilience, a gritty immigrant and die-hard idealist… (Or that's what I told myself!) I had trained myself to be antifragile so pressure would make me stronger. I was used to hard times and I used my life as a lab to study and test skills for  "how to thrive in volatile, uncertain, and chaotic times."  "Courage is my jam, I've got this." was my mantra. I knew the work. I did the work. I embodied the work.
So, in my mind, I was fine.
Uh-huh...
I had my self-care systems and daily rituals in place: Meditation every morning? Check. Morning pages journaling? Check. Scriptures and prayer? Check. Daily workout? Check. Night-time recapitulation and gratitude journal? Check. Circle of friends and mentors? Check. Breathing techniques? Check.
Hmm…
So why the heck am I crying in the middle of Trader Joe's?
It was as if grief had grabbed me by the throat and body-slammed me to the floor.
And for several mornings that followed, I found it nearly impossible to get out of bed. Only thoughts of serving my kids and my clients got me through.
No, I couldn't go on with life as usual. I would have to stop and face this unwelcome guest — who looked like she meant business and was going to stay a while.
Man!
---
Maybe you can relate? An unexpected death, losing that job, divorce, a close friendship ends abruptly… A failed launch. Rejection. A major illness. Not getting credit for a project you worked so hard on. Getting cut out of something you created or thought needed your presence. Maybe moving to another country or losing that contract. Getting demoted or passed over for a promotion. Or maybe with the current pandemic, you are experiencing many of these events at the same time.
You feel numb, blah, lost, sad…
The Grief Roller Coaster
We know about the stages of grief — Denial, Anger, Bargaining, Depression, and Acceptance. I also believe we should include Numbness in that list. Numbness: feeling nothing, or blah, or meh, or emotionally shut down.
Many of us expect those stages to be linear, predictable, and with a deadline — tied up with a nice pretty bow. But grief is not this way. It is messy, frustrating, feels like a crazy roller-coaster ride without the thrills. It comes in waves, washing over you when you least expect, and often at the most inconvenient time.
Everyone says "get over it" but you can't seem to snap out of it. Even worse, everyone else seems to move on with a quickness that triggers even more shame for you. You feel broken and find yourself wondering, like many of my clients, who have asked: "What is wrong with me? Why can't I just snap out of it? I should be over it by now."
Many of us expect and accept grief after the death of a loved one.
Indeed, grief appears more acceptable when there is a death. But most of us do not expect grief after life's other losses, transitions, or failures. For some of us, grief can blindside us. And for outsiders looking in, grief in these circumstances can seem unacceptable, or even a sign of privilege, which leads to comparative suffering. "Hey, I lost a job. There are many who are starving in other countries. No one has time for my first-world problems."
Wrong.
Suffering is suffering. Your body is going through similar physiological events as another person who is suffering. Your suffering should be addressed as such regardless of the source. (Tweet this.)
I liken it to having been in a car wreck. Trauma, failure, loss, and death are like car wrecks emotionally, spiritually, mentally, and sometimes even physically. You need the time, resources, space, and energy to recover.
Why You Must Ride the Grief
Grief is here to serve a purpose — to help you heal. The longer you avoid grieving, the longer it will take to heal. You prolong your healing when you avoid grief.
Many of us judge ourselves and feel shame for feeling sad or grieving and the depth and intensity of our grief. Grief shows that you deeply cared. Grief serves a purpose and can bring many benefits. It gives you the time and space and resources to heal. It brings the ability to empathize with others who are going through similar situations and you can be a source of comfort on the other side of your healing for others. It helps you honor what you have lost and the experience you had. It also brings some levels of closure
To serve its purpose, grief requires energy, time, space, resources, and attention. And you are worthy of it. To quote Charlie in his incredible book, Start Finishing, "anything that requires time, energy, or attention is a project." So, grief is a project! You will need to make time and room for it. It's like having several tabs open on your computer and the page you want is taking too long to load. Whether grief is addressed or not, it is using up time, energy, resources, and attention.  The question is, "Will you give grief what it is asking of you?"
Make Time and Room for Grief
After life's upheavals, you have to give yourself the time and space to grieve. Many of us feel like we don't have time to grieve. But life happens. Divorce, job loss, infidelity, death of a loved one happen to the best of us. Many of us expect to just pick up after a devastating event or a loss, and keep it moving. We stay busy, going from one activity to the next.
But grief will sneak up on you. If you don't make time for grief, it will suddenly grab you and slam you to the ground and one day you will wonder why you can't get out of bed — or find yourself crying in the middle of the grocery store.
Acknowledging the death of what you thought you had is the first step.
Grief can be tricky to navigate. With symptoms like crying, feeling really tired and unmotivated, and all kinds of emotional swings, it can take a lot of energy to grieve. Since grief can also be disruptive, many of us are not willing or able to make time for it. We have work to do, deadlines to meet, mouths to feed and many of us remain in survival mode. Doing what we have to do to make it through the day.
"I don't have time to grieve."
"If I look at the grief, I will fall apart and can't get back up again."
Grief can also be paralyzing and disorienting. Your brain feels like mush — what usually feels easy is now immensely difficult and you can't even explain why. For me, the easiest essay topic suddenly triggers a writer's block from hell. You find yourself crashing, missing deadlines left and right. Your life is a fog and you can't find your way anywhere.
Even if you already have a journaling, meditation, and self-care practice in place, you will need some extra time focused solely on processing your grief. You are worthy of it.
What to Do When Grief Shows Up (Often Unexpectedly)
When grief pays you a visit, use these four steps as a starting place for experiencing your grief and all it brings:
Pause. It is tempting to continue life as usual, using busywork to distract us from facing ourselves. We numb ourselves with activity, food, shopping, work. Pause and pay attention to what you are thinking, saying, and doing. This is my favorite definition of mindfulness.

Get curious. Instead of ignoring, denying, distracting, escaping, stuffing, or subverting our emotions, getting curious about our emotions is critical. What are you feeling? Ask yourself the five questions from the next section to help guide you.

Check the story. Look out for shame. Pay attention to the story you are telling yourself especially during the bargaining phase of grief. The shame or "not___ enough" stories you tell yourself can set. The shame of grief can be devastating. "Maybe if I had lost those 20 pounds, he wouldn't have filed for divorce." "Maybe if I had talked to her more, she wouldn't have died."

Practice. We find ourselves struggling with deep feelings of loss, disorientation, and longing for something we can't put a finger on. And we adopt all kinds of coping mechanisms, functional or dysfunctional, to get through it. Learning how to ride the waves of emotions takes time, practice, and patience.
Five Questions to Ponder During Your Grieving Process
These are five questions to consider when grieving (from the Rising Strong process by Dr. Brené Brown):
What have I lost? Grief brings a sense of loss. Feeling like we have lost something. What have you lost? Community? A relationship? Money? Stability? I have a client who lost a parent and she kept saying "I have lost my anchor."

What am I longing for? With grief comes this feeling that floats to the surface — a subconscious longing for something you didn't even know you had, such as connection or love. For me, grief brought this deep intense nostalgia, a desire for devotion and belonging. I wanted a holy sacred connection to a community that could never be lost and I found myself weeping often at the intensity of my longing.

In what way am I feeling lost? The disorientation of grief can be draining and exhausting and honestly, quite scary if you don't know this is what is happening. Many of my clients report walking into a room and not knowing why they went there. After dropping my kids at their dad's house, I would drive around the city in a daze for an hour, unsure of where I was going or what to do with the new "free time" I now had.

How am I coping with this grief? Are you staying busy with excessive work, hopping from one task to another? Numbing with food or alcohol, shopping, binge-watching TV? Serial dating? Hopping from one relationship to another? There are all coping mechanisms people use for grief. Pay attention to the ways you are dealing with your grief.

How can I grieve in a way that supports me? There are healthy and unhealthy ways to grieve. You want to grieve in a way that is aligned with your values and nurtures you. Grief sucks a lot of energy from you even when you are not making time for it. Practicing self-care is critical:

Physically — are you eating well, getting enough rest or sleep, moving your body, getting loving touch or massages?

Mentally — are you checking your mental dialogue and thinking thoughts, reading books that uplift you, talking to a therapist or coach?

Emotionally — are you journaling, practicing self-compassion?

Spiritually — are you praying or going to your place of worship if you practice a faith, hanging out with your community or friends, spending time in nature?
Tips for a Supportive Grieving Process
Here are some tips that helped me navigate my own grief, and I hope will help you as you process your own:
Be kind to yourself. Treat yourself like someone you love. Practice self-compassion.

Drop all non-essentials and prioritize your projects. Focus only on the essential. Guard your bandwidth.

Ask for what you need.

Practice grounding and self-care.

Embrace death.

Write a new story.

Give yourself permission to feel ALL the feels.

Comfort not numbing.

Tell your story.

Own up to the ways you are grieving that might not be serving you.

Be aware, be mindful, be present; not escaping.

Get help. Sometimes grief can be so thick that we need help navigating through it. Look for a grief support group, therapist, or coach.

Grieve on your own timeline, not others'. Grief has no timeline and you can't rush through grief.

Be selective of your company. One of the surprises of grief is how isolating it can be. Having support is really important. But make sure you have real comforters not the "miserable comforters" like the friends of Job in the Christian Bible, who blame us for the mishaps in our lives and kick us when we are already down. Be discerning about who you share with during your grief.

Grieve your own way.

Be mindful of your consumption. With the recent pandemic, many are struggling with their news consumption on news sites and social media. This can be massively draining, depressing, and anxiety-provoking. Set limits to your time on these sites or take a media break altogether.

Forgive yourself. You will make mistakes and even hurt others as you navigate grief.

Give others grace. Others will make mistakes and even hurt you as they try to help or give you space thinking they are helping. Forgive them if you can.

Keep showing up. You are doing the best you can. Some days it's a shuffle, other days it is a crawl, and sometimes showing up looks like taking a day off and resting. Keep showing up for yourself, however you can. Moment by moment, breath by breath.
Life happens. When we least expect, the sky falls. Also, as we go for what we want, we will sometimes fail, lose, fall, or get hurt. And sometimes just being alive means we are going to experience the death of a loved one, job loss, a major illness, or heartbreak. Grief is an unwieldy yet essential part of life. Yet many of us find it difficult to process or even acknowledge it. We get to choose whether we grieve well, or let grief body-slam us to the floor, disrupting our lives completely.
Grieving well is an essential part of rising strong from life's transitions, failures, falls, and losses. Will it be hard? Yes. Will it be worth it? Absolutely. Your path is your own and by allowing grief to do her work, you can begin the path to healing and rising strong again.
---
Learn more about the Rising Strong process for rising from life's falls, failures, and losses in Yvonne's upcoming 8-week course Rising Strong — the full curriculum from Brene Brown's research and book. Gather in community and learn the skills for rising strong together. Or subscribe to her Thriving Idealist Newsletter to stay connected.