Discover more from Productive Flourishing
A newsletter and community for driven possibilitarians who are seeking full-spectrum thriving, hosted by award-winning, best-selling author of Start Finishing, Charlie Gilkey.
Over 33,000 subscribers
Feelin' the Flotilla Love: Our 2021 Writing Cohort Recap
During the month of October, we gathered up 20+ ambitious writers to commit to publishing a new piece of content every day. It was a lot of fun and a lot of learning, pushing ourselves and our writers to write consistently (or at least try to). We had such a blast working with the crew of creative folks that we wanted to share some insights as well as our favorite pieces of content that have come from the #Ship30for30 Flotilla. Enjoy! "This really has been a stretch that has echoed into some other areas of life." –Liana Cassar "I've learned a ton about what conditions interfere with my publishing regularly. What's stealing my time? What puts pressure on my imagination? It's been a great organizing principle for my attention." –Kate Strathmann "Discussions about numbers of followers and streaks reminded me to be wary of vanity measures, too. Depth of engagement and quality need to be in focus.  Even so, the discipline of one idea per day, and more regular posting has been great in building confidence, and I hope quality. Oh, and I still believe that sometimes you write for yourself… there is an innate joy in bring your fuzzy ideas into stark reality." –Shaun Coffey "Forcing my thoughts into essays has been enormously helpful for me to refine what I have been thinking over the last few years into concrete theses while also helping me to feel like I can be more experimental with unfinished thought. Plus, the creativity this is unleashing in other areas of my life is also so joyful. I started putting fun stickers on my nails, I've added a "doodle with glitter gel pens" night to my weekly routine, I've even found a sense of playfulness and fun in some situations that I've previously been feeling a lot of stress." –Alli Blum "Here's the thing I don't think people are getting. It's totally cool to want to write just for yourself. There's nothing wrong with that. But, if you want other people to read your writing, you have to take other people into consideration. And those other people aren't you. So you are naturally going to have to do some things with your writing that you don't inherently love. And that's okay. It's okay to make things easier to read so that other people can understand them. It's okay to make things more accessible so that other people jump on your bandwagon. If you want people to jump into your boat, make it easier for them." –Kristin Tweedale "I have an "experiment of one" attitude, and many times I just want to just do something and iterate it to see if it works for me. That was my goal for this, and I think learning to not over-schedule myself was helpful." –Kendra Bork "Ship30 illuminated how much more creative consistency I had available if I were willing to let go my excuses and endless rules I had around writing." –Kendra Wright "I also realize just how much I love writing and getting ideas into the world. I remember how much I loved writing the book and how it was easy to shut the world off. And I also know how this became an easy way to hide from what I really needed to be doing for building the business." –Joanna Denton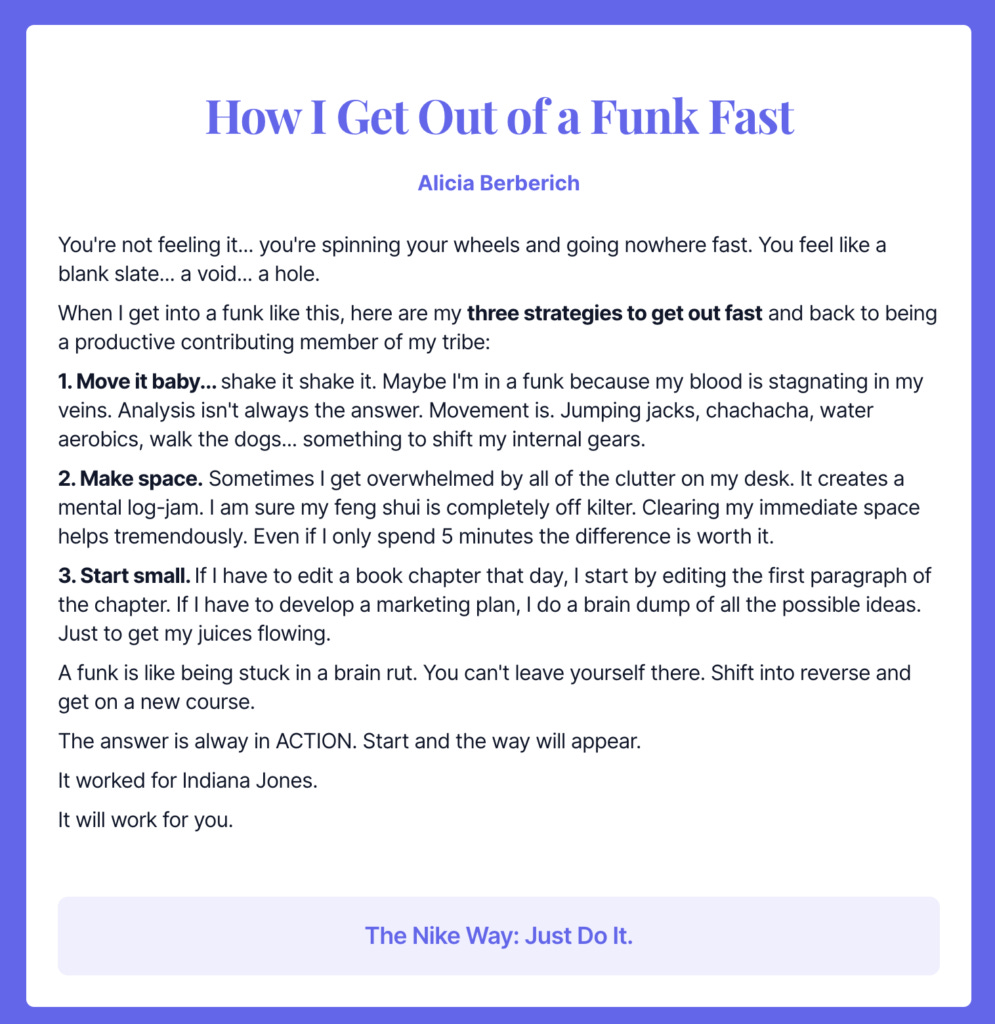 Thank you, Alicia, for these reminders of how to get out of a funk. Especially as we enter winter here in Portland, OR these tips are incredibly helpful. --
Thanks to @CharlieGilkey for help thrashing on this essay on asking, "Who is your customer?"

Where I'm at now: It's less useful to ask it to get an answer in the "right" form for #JTBD. It's more useful to use it as a tool to see where your team is.#flotilla#ship30for30 pic.twitter.com/azazwqyyh7 —Alli Blum (@AlliBlum) October 18, 2021
We love this piece because it's so important to understand your customer in an effort to know what their pain points are and how you can best solve them. --
Probably one of my most favorite topics to write about, think about, discuss. I do it all day, every day, and I'm constantly learning different ways to do it.

And yet, it confounds a lot of people — including founders. It's strategy. What is it? And what is it *not*? ???? pic.twitter.com/HJy0TjG6k0 —Asia Orangio ✨ (@AsiaOrangio) October 14, 2021
We love how Asia outlines what is – and is not – strategy, so we can all move forward in our businesses with what defines success.  --
When was the last time you were flowing with wonder, being OK with not-knowing, uninhibited, and enjoying the ride? Cristina's reminder of everyone's need for a creative practice is so very necessary – thank you! --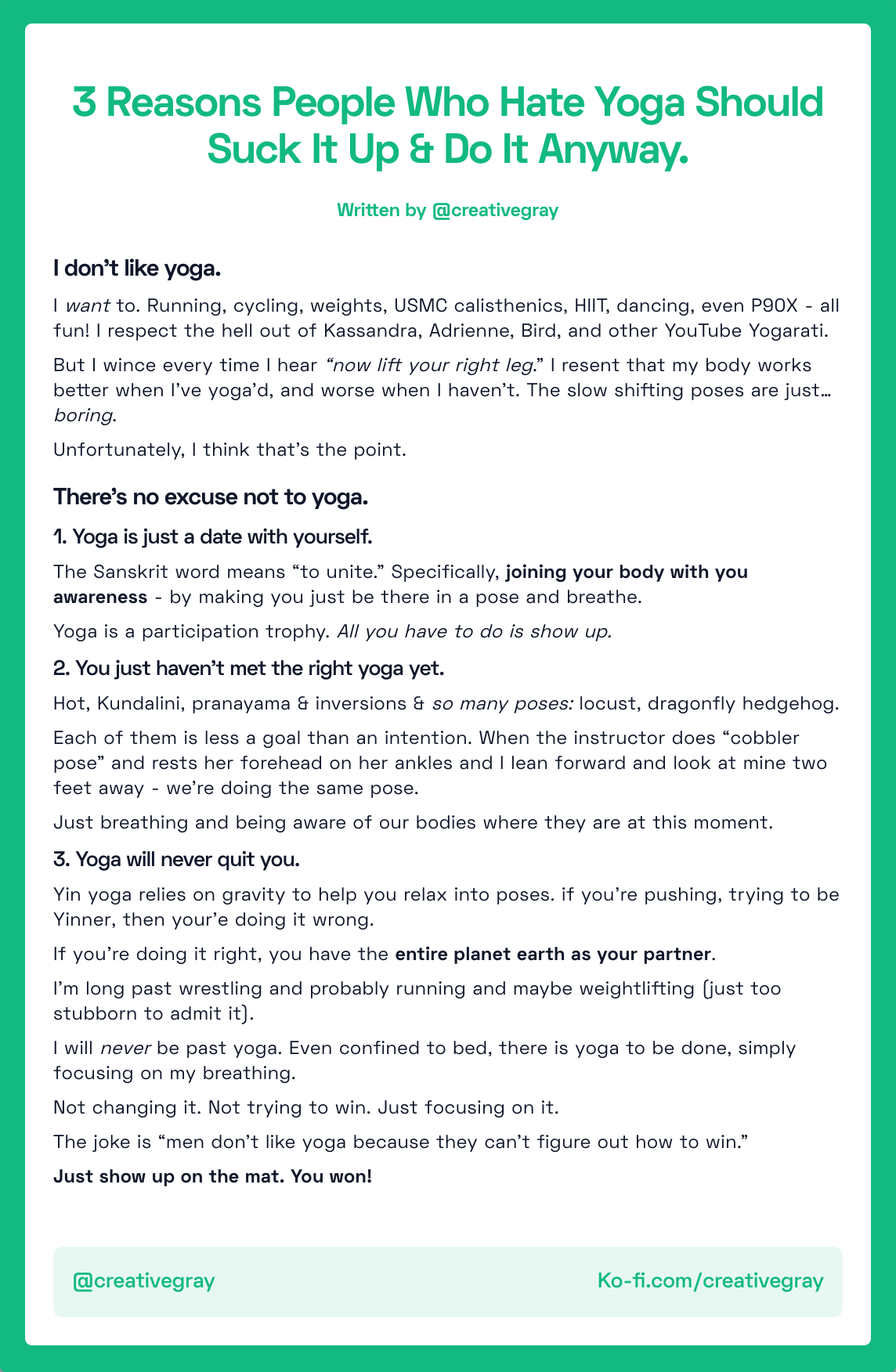 Gray's honest look at the importance of yoga was both inspiring and quite amusing. Because he's right: you just have to show up on your mat! --
It can be difficult enough to have the courage to reach out — but do you know the people who you can reach out to? #flotilla #ship30for30 https://t.co/8BgKWoPZ4Z pic.twitter.com/rsmIguBMCz

—Joanna Denton (@JoDentonCoach) November 5, 2021
It can be difficult enough to have the courage to reach out – but do you know the people who you can reach out to? This reminder is so great! --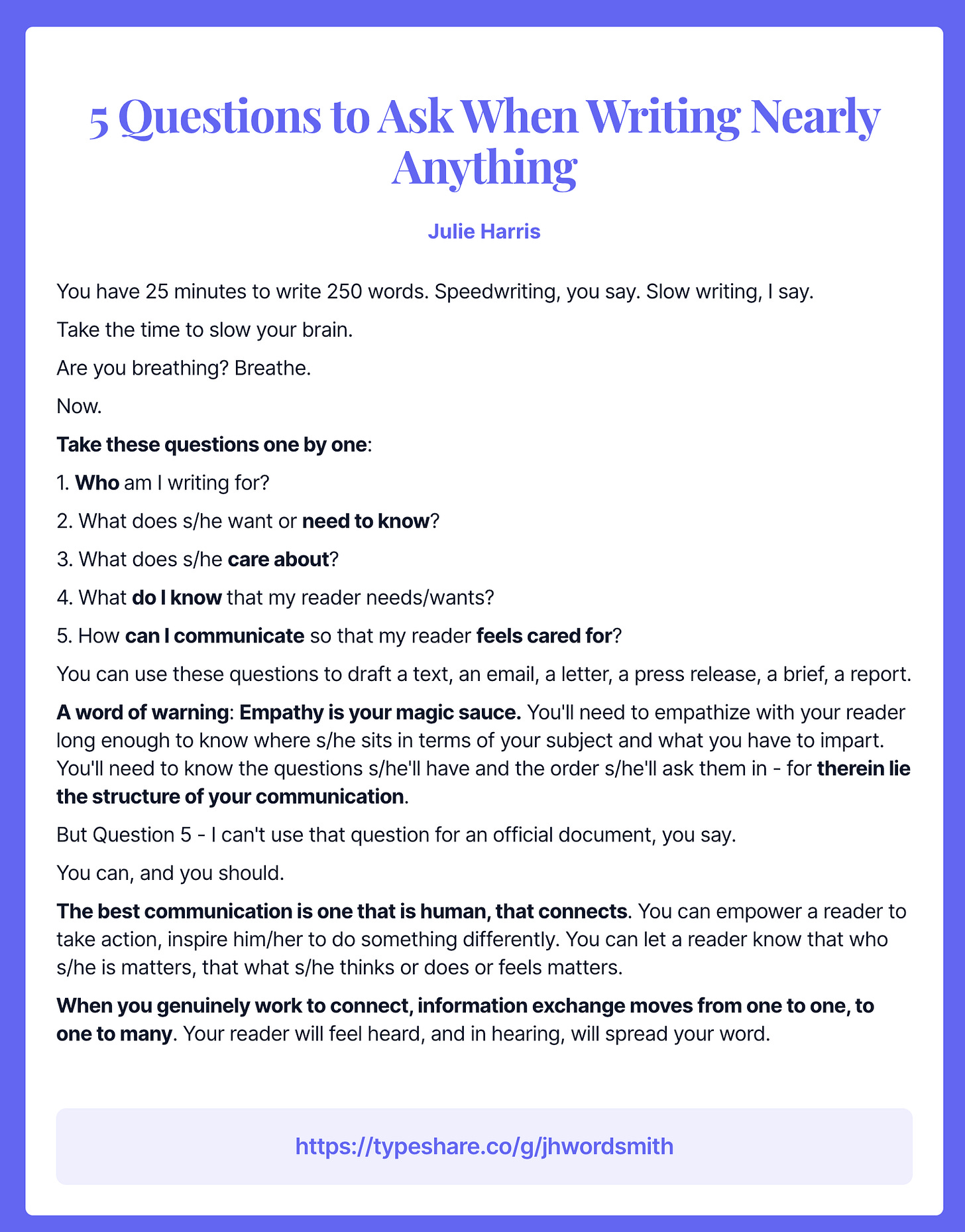 These prompts to get you to started writing are a helpful tool to keep in your back pocket next time you feel stuck. We love how Julie particularly points out the importance of empathy.  --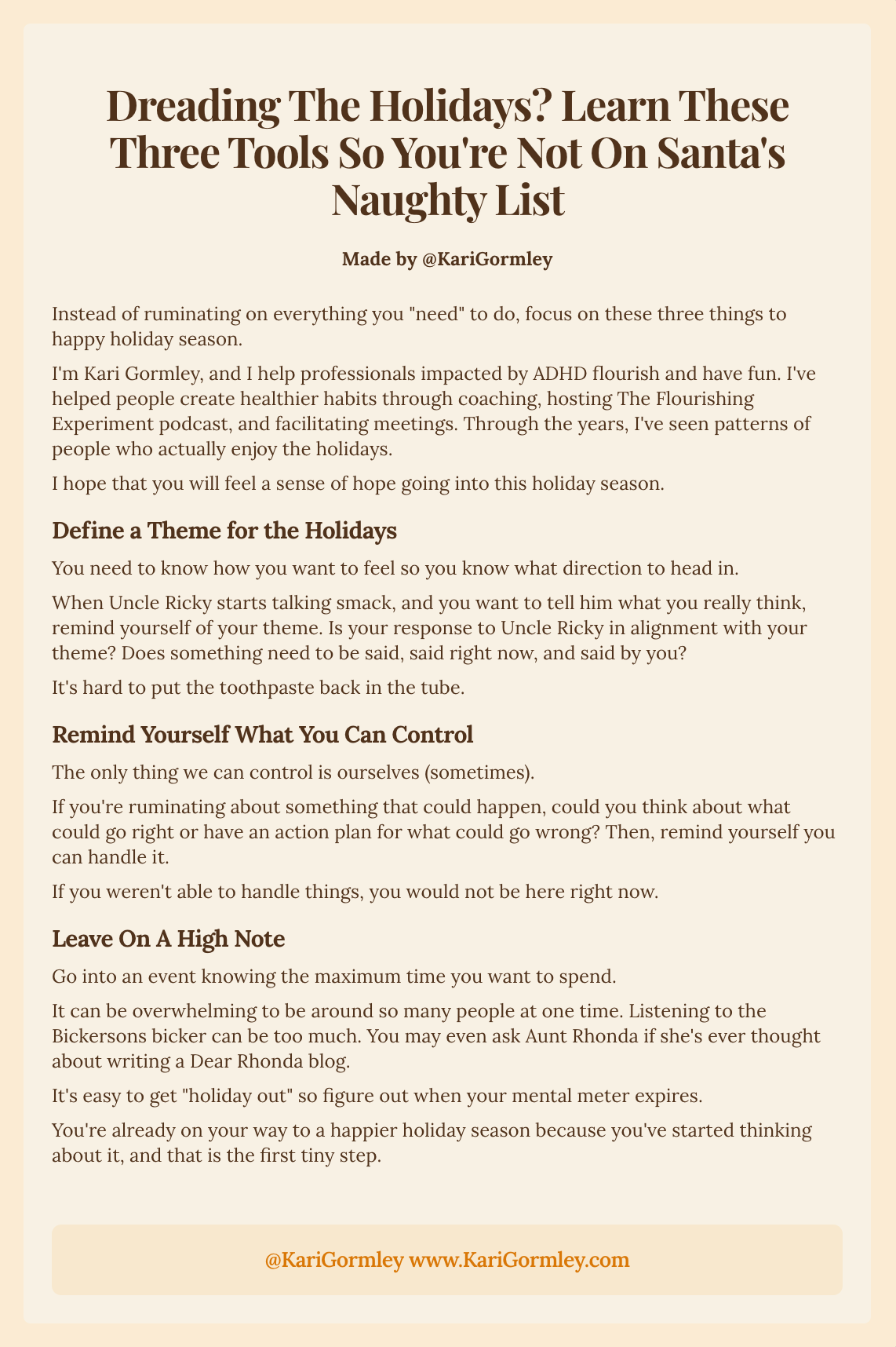 These timely holiday reminders from Kari are particularly helpful, especially for the ADHD and neurodiverse community. --
[1] My work (and hell, my being myself in the world) is grounded in confounding, gnarly, beautiful, unanswerable questions. Here are some I'm asking lately: pic.twitter.com/xPBGTEml2e

—Kate Strathmann (@_Wanderwell_) October 9, 2021
These vulnerable questions Kate's been asking herself to find focus and grounding in her work might just be a tipping-off point for you to consider as well. --
What to do when our emergency plan isn't enough pic.twitter.com/ZKLQY8hzbL

—Modern Home Economics ???? (@ModHomeEc) October 28, 2021
Figuring out emergency plans is something most of us (understandably) put off, so we're thankful for these short tips to help strengthen your preparedness. --
If you want to flex your hustle muscle sustainably, try to use these 3 tips… #Ship30For30#Flotilla pic.twitter.com/Q3qPPxvEzV

—Kendra Wright (@kendrarockslife) October 25, 2021
We all know how rampant burnout is these days, so Kendra's advice + action items on how to chase your goals while still taking care of yourself are spot on. --
Social media corporations are breaking the social contract. We deserve better. And some of us are already creating it. #ship30for30 #flotilla #awesomeladiesproject pic.twitter.com/qR32LdzLfE

—Kristin Tweedale (@rukristin) October 27, 2021
Kristin's piece about the reality of social media (and the people who run them) is a good reminder, especially as we enter a season where it's all too easy to fall into the Instagram vs. Reality trap. --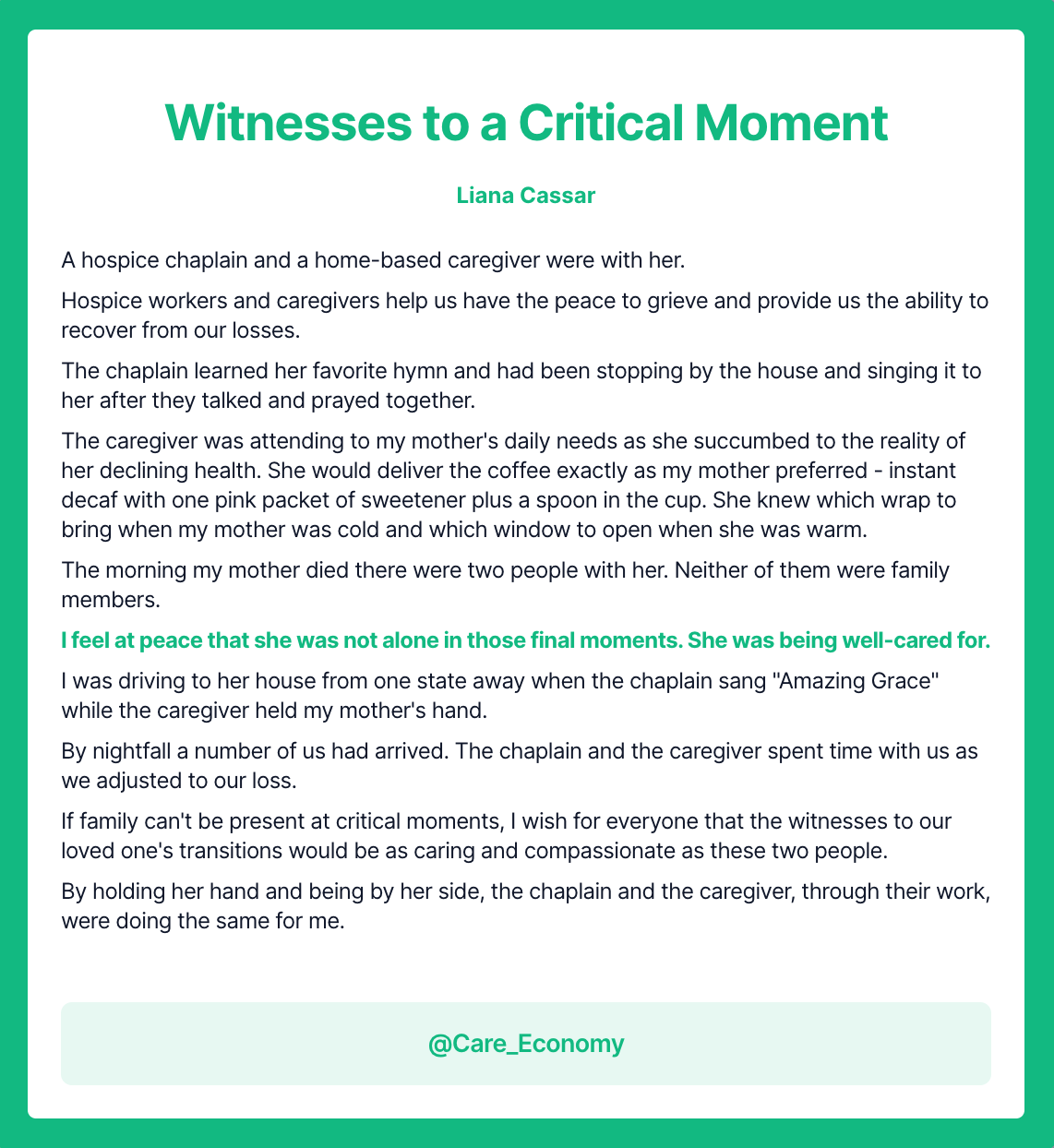 This honest story about Liana's appreciation of the caregivers of her mother in her final moments is incredibly raw, touching, and tender. --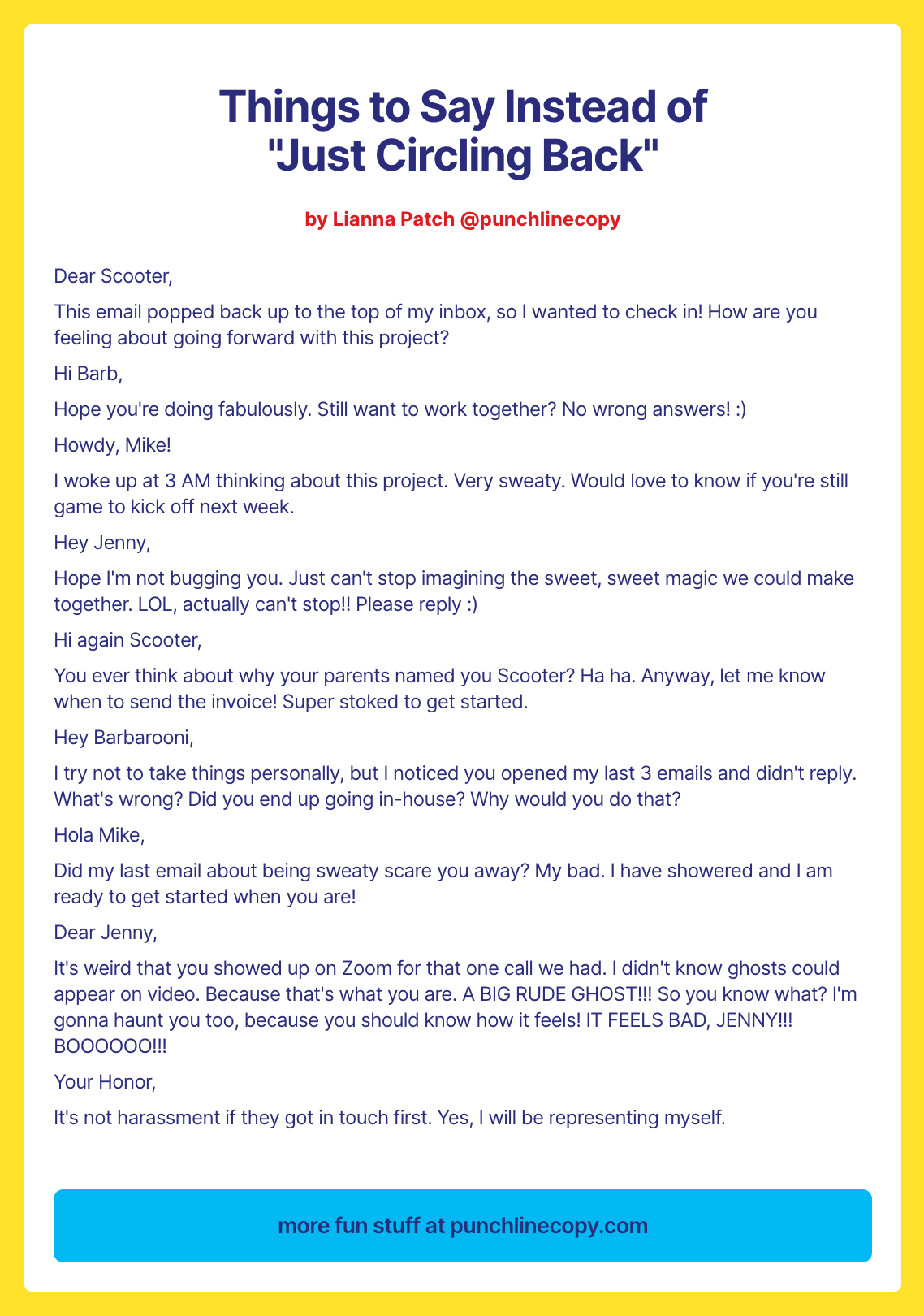 The way Liana says what we're all thinking. :) We love these honest responses to what we really mean when we say, "Let's just circle back." --
We love Maghan's analogy here of climbing Mount Learning, and all of the curse words we might say along the way to the top. --
On finding friends in a bedroom community. We've moved since then. It was a GREAT choice.#Ship30for30 #flotilla pic.twitter.com/nyAij59uWn

—Maria Bengtson???? (@MariaCBengtson) October 14, 2021
These reminders of the importance of friendship, community, and your network of support is always something we need to hear. --
Want to achieve your big dream?

Here is how I achieved mine. And the dream is bigger than what I initially imagined. pic.twitter.com/euoOundLhA —marie sand painting ???? (@mariesandpaint) October 11, 2021
Do you have a big dream you want to achieve? Marie outlines two things she's done consistently when going after what matters most.  --
Kurt and I have had some very bad habits as a couple and have learned how to transform them into new habits that give us more of the closeness & pleasure we wanted. Here's how ???????????????? pic.twitter.com/970DzBFNaK

—Michele Lisenbury Christensen ???? (@lisenbury) June 27, 2021
Just like anything worth working for, you have to get in the habit of improving it, and that goes for love and your relationships, too. We love this unique perspective from Michele.  --
#ship30for30 #flotilla #pudding So what actually is pudding? pic.twitter.com/xz1jajZn5h

—Sam Hunter (she/her) (@SamHunter42) October 19, 2021
Sam's breakdown of the various puddings of the UK is both a light-hearted and informative read.  --
Joy vs. Happiness. Ready about why Joy makes our lives better compared to the paradoxical emptiness that can come with the pursuit of happiness in today's #ship30for30 #flotilla #shipjoy essay. 2/30 pic.twitter.com/5y4yryftJj

—Sarah C.B. Guthrie ???? ???? she/her (@ArtistGu3) October 10, 2021
We love this perspective on the difference between joy and happiness, and why this distinction matters. --
Ethical leadership practives start and end with all of us...not just the leader#ship30for30 #flotilla 27/30 pic.twitter.com/KOnsiq42My

—Shaun Coffey (@ShaunCoffey) November 3, 2021
These thoughts on ethical leadership are an important reminder as we continue to build our businesses and support our teammates. --
How games (and other hobbies) build strong bonds...#MagicTheGathering #gaming #hobbies#Ship30for30 #Flotilla pic.twitter.com/BrMGnFlzIZ

—Steve Arensberg ???? (@sarensberg) October 16, 2021
Steve's reminders of how fun and games are more than just hobbies to pass the time, but rather opportunities to create a bond and share a memory with someone you love. --
#WhyNotMe That time I got really pissed at @RyanHoliday for perpetuating the lie. I might get cancelled for this one but it's my truth. I still love the guy. All is forgiven. We are all worthy of our dreams. Why not me? Why not you? #flotilla #ship30for30 pic.twitter.com/tymwiTAAxf

—Yvonne Ator (@YvonneAtor) October 19, 2021
Finally, we conclude our highlights with Yvonne's excellent piece about advocating for herself, her dreams, and her successes.