Discover more from Productive Flourishing
A newsletter and community for driven possibilitarians who are seeking full-spectrum thriving, hosted by award-winning, best-selling author of Start Finishing, Charlie Gilkey.
Over 33,000 subscribers
Our Favorite Books for Q3 2021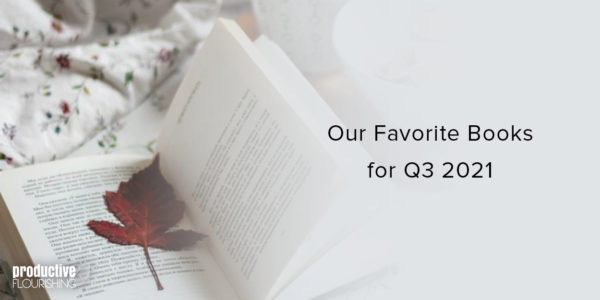 We're winding down the time of year that's ripe for reflection and relaxation, the easy-breezy time when we are more likely to give ourselves permission to have fun. But along with the year's natural flow back into more productive times – what with the school season returning along with cooler temps shuttling us back inside – we want to remind you that you can strike a balance between taking care of yourself while moving your professional development forward, no matter what the season is. Check out some of our favorite books for Q3, which include a mix of both personal and professional lessons, that will help to round out the summer season.
For Self-Help and Personal Growth
The Big Leap by Gay Hendricks: This book demonstrates how to eliminate the barriers to success by overcoming false fears and beliefs. Fans of Wayne Dyer, Eckhart Tolle, Marianne Williamson, and The Secret will find useful, effective tips for breaking down the walls to a better life.
Daring Greatly by Brené Brown: Dr. Brown challenges everything we think we know about vulnerability. Based on twelve years of research, she argues that vulnerability is not weakness, but rather our clearest path to courage, engagement, and meaningful connection. This book will spark a new spirit of truth – and trust – in our organizations, families, schools, and communities.
How to Win Friends and Influence People by Dale Carnegie: This timeless bestseller is packed with rock-solid advice that has carried thousands of people up the ladder of success in their business and personal lives. Learn the six ways to make people like you, the twelve ways to win people to your way of thinking, and the nine ways to change people without arousing resentment.
What Got You Here Won't Get You There by Marshall Goldsmith: Executive coach Marshall Goldsmith shows in this book that subtle nuances make all the difference; the small "transactional flaws" performed by one person against another, which lead to negative perceptions that can hold any executive back. By using Goldsmith's straightforward, jargon-free advice, you can start to easily see behavior change.
For Business and Entrepreneurship
Good to Great by Jim Collins: To find the keys to greatness, Collins's 21-person research team read and coded 6,000 articles, generated more than 2,000 pages of interview transcripts, and created 384 megabytes of computer data in a five-year project. The findings may surprise many readers and, quite frankly, upset others.
The Art of the Long View by Peter Schwartz: What increasingly affects all of us, whether professional planners or individuals preparing for a better future, is not the tangibles of life – numbers, data, stats – but the intangibles: our hopes and fears, our beliefs and dreams. Only stories, scenarios, and our ability to visualize different kinds of futures adequately capture these intangibles. In this book, the author outlines the scenario approach, giving you the tools for developing a strategic vision within your business.
Business Model Generation by Alexander Osterwalder: This book is a practical, inspiring handbook for anyone striving to improve a business model or craft a new one. It'll teach you powerful and practical innovation techniques, and how to systematically understand, design, and implement a new business model or analyze and renovate an old one.
Good Strategy, Bad Strategy by Richard Rumelt: Developing and implementing a strategy is the central task of a leader, whether the CEO at a Fortune 100 company, an entrepreneur, or the owner of a small business. Richard Rumelt shows that there has been a growing and unfortunate tendency to equate fluffy packages of buzzwords, motivational slogans, and financial goals with "strategy." He debunks these elements of "bad strategy" and awakens an understanding of the power of a "good strategy."
For Creativity and Innovation
The Language of Man by Larry Robertson: Creativity is about the possible, and the story of creativity is the story of who we are, a story still unfolding. It's time we come to understand it and learn how each of us can contribute a verse. It's time we understand this language of man and learn to speak creatively. This book provides more than needed understanding; it offers a powerful framework for creating.
The Back of the Napkin by Dan Roam: This book proves that thinking with pictures can help anyone discover and develop new ideas, solve problems in unexpected ways, and dramatically improve their ability to share their insights. The Back of the Napkin will help readers literally see the world in a new way.
On Writing: A Memoir of the Craft by Stephen King: Part memoir, part masterclass by one of the bestselling authors of all time, this superb volume is a revealing and practical view of the writer's craft, comprising the basic tools of the trade every writer must have. Brilliantly structured, friendly, and inspiring, On Writing will empower and entertain everyone who reads it – fans, writers, and anyone who loves a great story well told.
Six Thinking Hats by Edward de Bono: In this book, Edward de Bono shows how meetings can be transformed to produce quick, decisive results every time. The Six Hats method is a simple technique based on the brain's different modes of thinking, and these principles fundamentally change the way you work and interact. They have been adopted by businesses and governments around the world to end conflict and confusion in favor of harmony and productivity.