Discover more from Productive Flourishing
A newsletter and community for driven possibilitarians who are seeking full-spectrum thriving, hosted by award-winning, best-selling author of Start Finishing, Charlie Gilkey.
Over 33,000 subscribers
Our Favorite Books for Q2 2021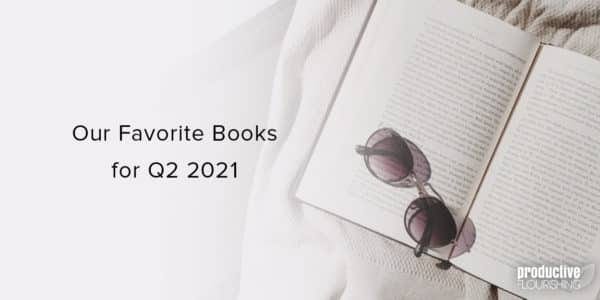 As we ease out of winter and emerge into longer days and ever-so-slightly warmer temps, we're trying to find that perfect balance of continuing to work hard and find rest. So while it's not full-blown summer vacation just yet, we wanted to offer up some books to read that will keep the inspiration going, while also teasing the idea that it might just be OK to kick your feet up next to the pool for a little while… all with a good book in hand.
For Creativity and Innovation
Flow by Mihaly Csikszentmihalyi: This author and psychologist's investigations of "optimal experience" have revealed that what makes an experience genuinely satisfying is a state of consciousness called flow. During flow, people typically experience deep enjoyment, creativity, and a total involvement with life. Csikszentmihalyi demonstrates the ways this positive state can be controlled, not just left to chance.
The War of Art by Steven Pressfield: Internationally bestselling author Steven Pressfield delivers a guide to inspire and support those who struggle to express their creativity. Pressfield believes that "resistance" is the greatest enemy, and he offers many unique and helpful ways to overcome it.
Big Magic by Elizabeth Gilbert: Balancing between soulful spirituality and cheerful pragmatism, Gilbert encourages us to uncover the "strange jewels" that are hidden within each of us. Whether we are looking to find new ways to address challenges in our work, embark on a dream long deferred, or simply infuse our everyday lives with more mindfulness and passion, this book cracks open a world of wonder and joy.
The Power of Now by Eckhart Tolle: The author's message is simple: living in the now is the truest path to happiness and enlightenment. And while this message may not seem stunningly original or fresh, Tolle's clear writing, supportive voice, and enthusiasm make this an excellent manual for anyone who's ever wondered what exactly "living in the now" means.
For Communication
Boundaries by Henry Cloud: Having clear boundaries is essential to a healthy, balanced lifestyle. A boundary is a personal property line that marks those things for which we are responsible. In other words, boundaries define who we are and who we are not. Dr. Henry Cloud offers answers to tough questions and shows us how to set healthy boundaries with our parents, spouses, children, friends, co-workers, and even ourselves.
Nonviolent Communication by Marshall B. Rosenberg: In this internationally acclaimed text, Marshall Rosenberg offers insightful stories, anecdotes, practical exercises, and role-plays that will dramatically change your approach to communication for the better. Discover how the language you use can strengthen your relationships, build trust, prevent conflicts, and heal pain. 
The 5 Love Languages by Gary Chapman: Falling in love is easy. But staying in love… that's the challenge. How can you keep your relationship fresh and growing amid the demands, conflicts, and just plain boredom of everyday life? Whether your relationship is flourishing or failing, Chapman's proven approach to showing and receiving love will help you experience deeper and richer levels of intimacy with your partner – starting today.
Thinking, Fast and Slow by Daniel Kahneman: In this book, Kahneman takes us on a tour of the mind and explains the two systems that drive the way we think. System 1 is fast, intuitive, and emotional; System 2 is slower, more deliberative, and more logical. Kahneman exposes the extraordinary capabilities – and also the faults and biases – of fast thinking, and reveals the pervasive influence of intuitive impressions on our thoughts and behavior.
For Productivity and Effectiveness
The Power of Full Engagement by Jim Loehr: We live in digital time. Our pace is rushed, rapid-fire, and relentless. Facing crushing workloads, we try to cram as much as possible into every day. We're wired up, but we're melting down. As authors Jim Loehr and Tony Schwartz demonstrate in this book, managing energy, not time, is the key to enduring high performance as well as to health, happiness, and life balance.
Digital Minimalism by Cal Newport: Minimalism is the art of knowing how much is just enough. Digital minimalism applies this idea to our personal technology. It's the key to living a focused life in an increasingly noisy world. In this book, the bestselling author of Deep Work introduces a philosophy for technology use that has already improved countless lives.
Atomic Habits by James Clear: No matter your goals, Atomic Habits offers a proven framework for improving – every day. James Clear, one of the world's leading experts on habit formation, reveals practical strategies that will teach you exactly how to form good habits, break bad ones, and master the tiny behaviors that lead to remarkable results.
Pivot by Jenny Blake: Whether you have hit a plateau in your perfect-on-paper job, are considering taking on a new role in your current job, are thinking about starting your own business, or you want to move into a new industry altogether, one thing remains clear: your career success depends on your ability to determine your next best move. This book reveals how to methodically make your next career move by doubling down on what is already working.
Career Renegade by Jonathan Fields: There's a revolution brewing across the nation – a movement that's changing lives and revealing little-known paths to passion and prosperity. It's about building a great living around what you love to do most. Once you've been touched by it, you'll never be the same. This book is your way in, your admission ticket to the world of the career renegade.