Discover more from Productive Flourishing
A newsletter and community for driven possibilitarians who are seeking full-spectrum thriving, hosted by award-winning, best-selling author of Start Finishing, Charlie Gilkey.
Over 33,000 subscribers
Our Favorite Books for Q1 2021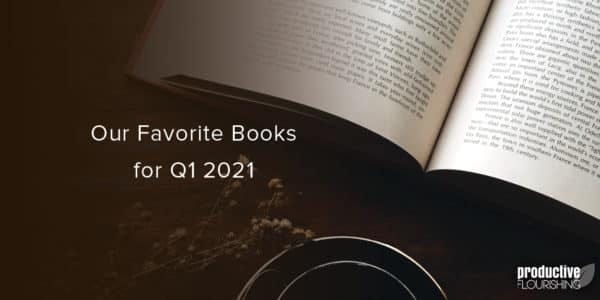 The start of the new year comes with an air of excitement, a feeling that we can do anything. But just as quickly as the holiday decorations come down, we can start to feel lethargic and uninspired, what with the cold temps and the early sunsets. That's why we've rounded up our favorite books to push you through to the start of spring. This wide array of books will keep you motivated on your New Year's resolution (remember that ol' thing?) and to start Q2 with renewed enthusiasm, both in the office and outside of it. 
For Productivity & Effectiveness
The 7 Habits of Highly Effective People: Powerful Lessons in Personal Change by Stephen R. Covey: One of the most popular and influential books of the last 25 years, Stephen Covey's cherished classic commemorates his timeless wisdom, and encourages us to live a life of great and enduring purpose.
Getting Things Done: The Art of Stress-Free Productivity by David Allen: Veteran coach and consultant David Allen shares his methods for stress-free performance that he has introduced to tens of thousands of people. Allen's premise is simple: our productivity is directly proportional to our ability to relax. Only when our minds are clear and our thoughts are organized can we achieve effective productivity and unleash our creative potential.
Drive: The Surprising Truth About What Motivates Us by Daniel Pink: Drawing on four decades of scientific research on human motivation, friend of PF Daniel Pink examines the three elements of true motivation — autonomy, mastery, and purpose — and offers techniques for putting these into action in a unique book that will change how we think and transform how we live.
Deep Work: Rules for Focused Success in a Distracted World by Cal Newport: Author and professor Cal Newport flips the narrative on impact in a connected age. Instead of arguing distraction is bad, he instead celebrates the power of its opposite. Deep Work is an indispensable guide for anyone seeking focused success in a distracted world.
For Business and Entrepreneurship
Competing for the Future by Gary Hamel: New competitive realities have ruptured industry boundaries, overthrown much of standard management practice, and rendered conventional models of strategy and growth obsolete. In this book, Hamel develops a coherent model for how today's executives can identify and accomplish no less than heroic goals in tomorrow's marketplace.
Purple Cow by Seth Godin: You're either a Purple Cow or you're not. You're either remarkable or invisible. Make your choice. In this book, friend of PF Seth Godin urges you to put a Purple Cow into everything you build, and everything you do, to create something truly noticeable. It's a manifesto for marketers who want to help create products that are worth marketing in the first place.
To Sell Is Human by Dan Pink: This book offers a fresh look at the art and science of selling. As Pink did in his previous books, he draws on a rich trove of social science for his counterintuitive insights. He reveals the new ABCs of moving others, explains why extraverts don't make the best salespeople, and shows how giving people an "off-ramp" for their actions can matter more than actually changing their minds.
The 4-Hour Workweek by Timothy Ferriss: Author and entrepreneur Timothy Ferriss spent more than five years learning the secrets of the New Rich, a fast-growing subculture who has abandoned the "deferred-life plan" and instead mastered the new currencies — time and mobility — to create luxury lifestyles in the here and now. Whether you are an overworked employee or an entrepreneur trapped in your own business, this book is the compass for a new and revolutionary world.
TouchPoints by Douglas Conant: This book speaks to the theory and craft of leadership, promoting a balanced presence of rational, authentic, active, and wise leadership practices. Leadership mastery in the smallest and otherwise ordinary moments can transform aimless activity in individuals and entropy in organizations into focused energy — one magical moment at a time.
For Self-Help & Personal Growth
Finding Your Own North Star: Claiming the Life You Were Meant to Live by Martha Beck: Martha Beck has helped hundreds of clients find their own North Star, fulfill their potential, and live more joyfully. Now, she shares her step-by-step program to help you take the exhilarating and frightening journey to your own ideal life.
The Four Agreements: A Practical Guide to Personal Freedom by Don Miguel Ruiz: In The Four Agreements, Don Miguel Ruiz reveals the source of self-limiting beliefs that rob us of joy and create needless suffering. Based on ancient Toltec wisdom, this powerful code of conduct can transform our lives into a new experience of freedom, true happiness, and love.
How to Live a Good Life by Jonathan Fields: This practical, modern-day manual is written for the pursuit of a life well-lived. Drawn from the intersection of science and spirituality, this book offers a simple yet powerful model: the "Good Life Buckets." Spend 30 days filling your buckets and reclaiming your life.
The Alchemist by Paulo Coelho: Combining magic, mysticism, wisdom, and wonder into an inspiring tale of self-discovery, this book tells the story of one man's journey. Along the way, we learn about the wisdom of listening to our hearts, recognizing opportunity, and, most importantly, following our dreams.