Discover more from Productive Flourishing
A newsletter and community for driven possibilitarians who are seeking full-spectrum thriving, hosted by award-winning, best-selling author of Start Finishing, Charlie Gilkey.
Over 33,000 subscribers
Failure Is Like Prom Night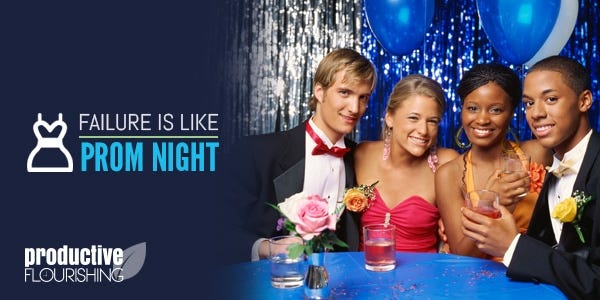 When was the last time that you thought about your prom night?
If you're over, say, twenty years old, it's probably been awhile unless you happened to stumble over something that made you think about it or were looking through photo albums.
But remember how big of a deal it was? Who's going with whom? The ask. The dresses, tuxes, and corsages. The dance. And whatever did or could happen after prom.
A few years after that big deal, it's something that's triggered only by photos, driving past your high school, or some random conversation like this one.
Failure is like prom night that way. We make a big deal out of it. We imagine all the ways things could go badly or how embarrassed we'll be about minutia. And - gasp! - other people might see us fail, too, and think we're losers.
And a few years later, that big deal will be just a memory living in the photo book in our mind. Unless, of course, our story about it is that it's just a sign that we're damaged goods.
What stings worse than whatever happens is sitting out the dance with the Universe for fear of how you'll look on the dance floor.
p.s. Every day is your chance to dance. Fill that photo book with pictures you'll be proud of.