Discover more from Productive Flourishing
A newsletter and community for driven possibilitarians who are seeking full-spectrum thriving, hosted by award-winning, best-selling author of Start Finishing, Charlie Gilkey.
Over 33,000 subscribers
Empowering Ourselves, Empowering Others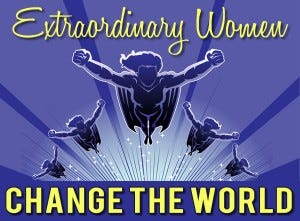 This May, we've been hosting our 2nd Core Conversation Series – Extraordinary Women Change the World. In case you missed any posts, here is a brief wrap-up of the posts from the last two weeks, with an afterword by Angela Wheeler. Enjoy!
Seven Ways to Rock Your Goddess Life - Don't feel like a goddess? Shann Vander Leek will help you get there with this post. She asks us to explore our inner goddess and love her up with wonderful, simple practices like yoga, unplugging, and more.
Defy Expectations and Be Your Own Truth - Desiree Adaway blew us away with her treatise on how empowerment is a two-way street that shines from inside each of us. By showing or baring our truth, each of us allow others to realize their own empowerment.
Sex in Public: Finding Liberation Out of Fear - Talking about sex is uncomfortable. Ev'Yan tears down the walls by revealing her own struggles exploring and discovering her sexuality - and in the process, she created a community where women can find empowerment by fully exploring themselves.
Tune Out the Experts and Discover Your Own Voice - Lisa Wood talks about discovering her voice and empowerment outside of the experts. By sharing her story about the journey of parenthood, from new parent to becoming an empty nester last week, Lisa relives the experience of stepping into her power.
Wingman for Women - "Romantic Wingman" Kory McDow shares with us his story and support of extraordinary women in his life. Kory gives us great, simple ways to support the amazing women in our lives.
Knowledge is Power - From rocking a side ponytail to becoming a new mother, Molly Mahar of Stratejoy has always been an advocate of empowerment. In this post, she shares her favorite way to encourage empowerment - learning.
So Much Inspiration and More to Come
I continue to be inspired and awed by this series. I have such deep gratitude for each and every one of our contributors and each of you that have been in this conversation with us. There have been amazing conversations on the site, on Twitter, Facebook, as well as through email, phone, and other sites. I'm so thrilled to see this conversation rolling out there and really helping and inspiring so many.
It's a beautiful, inspiring thing to see how each of our contributors has experienced empowerment and helped support the empowerment of others. Shann has given so many people the support and resources to really rock their lives, while Ev'Yan has provided a safe place for people to be open about an often un-talked about topic. Desiree is such an inspiration by witnessing the empowerment of others and Molly helps by giving us a juicy recipe for empowering ourselves through knowledge. Kory shared his experiences and the ways he supports empowered women in his own life, while Lisa shares with us how tuning out the experts helped her to be a great mom.
Wow! And, we still have so much magic left to share in this series. We'll continue to share posts throughout May and June. There are many amazing treats and surprises ahead! Just a couple of examples of goodies yet to come: 1) We'll get to hear from Keren Taylor, the director of WriteGirl, California's non-profit of the year, and 2) get a glimpse of a beautiful letter from Michael Van Osch to his nieces.
I hope you'll continue to extend the conversation with us. A couple of questions I'd like to leave you with:
Has there been a post in this series that has reached you in an important way?  We'd love to hear from you and share your empowerment journey.

Is there a woman that has made a significant positive impact on your life? If so, let her know.