Discover more from Productive Flourishing
A newsletter and community for driven possibilitarians who are seeking full-spectrum thriving, hosted by award-winning, best-selling author of Start Finishing, Charlie Gilkey.
Over 33,000 subscribers
3 Ways to Be an Empathetic Leader Under Pressure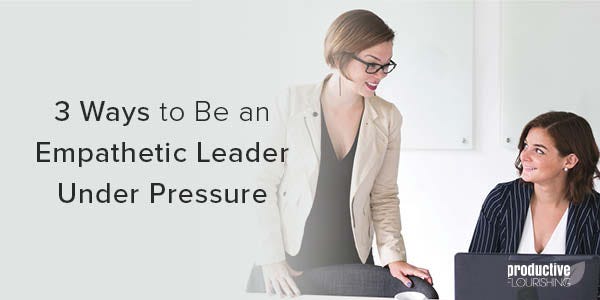 Editor's note: This is a guest post by Patricia Bravo.
Picture this. You're under a tight deadline or pressure to deliver. You have no additional resources at the moment, you have more work than you can handle and clients are awaiting your deliverables. To top it off, you barely slept the last two nights. You have a team member who can help, but you know she has a full plate and is getting ready for a well-deserved weeklong vacation. Your back-up consultant you sometimes call upon is booked and unavailable. Does any of this sound familiar?
While you don't typically bark orders, you're about to shift into serious command mode with your team member. You know she doesn't respond well to this approach, but things just need to get done. You'll deal with the collateral damage to the relationship later. You've heard the message that leading with empathy makes you a better leader and leads to favorable results. But at the moment, you're just not sure you can muster what it takes to engage with empathy. We've all been there.
Empathetic Leader Techniques
Having a few Empathetic Leader techniques in your back pocket, agile enough to be used in multiple scenarios, will help you avoid the reactive problem-solving depicted above and preserve relationships with coworkers, team members, and collaborators. Like anything else, Empathetic Leadership takes practice, and one of the many things practice earns you is the ability to quickly and easily shift into the Empathetic Leader under pressure. If you find yourself in this type of circumstance, try the following techniques (best followed in sequence) to course correct:
1. Slow Down to Save Time – Slowing down is counterintuitive and may be the last thing you want to do in the midst of trying circumstances. Yet you actually gain time when you take just one minute to decrease your internal and external pace. We've known for a while that multitasking decreases performance, so downshifting a bit allows you to stay more present with the person you need to interact with.
Start by physically bringing your body to a complete stop for a few moments. (Count to 10 if you need to.) Then take three deep breaths. If you can tolerate another 30 seconds, repeat this sequence. By making this quick, 1-minute investment, you prepare yourself for a more intentional conversation and save the time required to clean up any relationship damage later — a clean up that might involve multiple conversations and efforts toward rebuilding trust.
2. Peer Beneath Your Obvious Emotions – You know you feel tension and pressure. But what's underneath? Are you concerned about the quality of the deliverables? Afraid of missing deadlines? Angry at the circumstances that got you here? Worried about your ability to perform? By identifying what's underneath your surface emotions, you'll be better equipped to recognize what you're really dealing with. You can then set that aside temporarily to focus on your team member or other individual.
3. Activate Empathic Listening – Once you've slowed down and noticed what's going on with you, you can engage in communication and activate a deeper level of listening. This happens as you intentionally acknowledge and understand both the team member's verbal and emotional responses and point of view.
By applying these three Empathetic Leader techniques, you'll be able to release some of the pressure you're experiencing and focus on having a productive conversation with your team member or colleague. Agile empathy creates relationship shortcuts that strengthen the relationship. In fact, the relationship's strength may increase even further as the team member recognizes that, despite all of the pressure you are under, you took the time to engage with them using Empathetic Leadership. (Tweet this.) Give the practices shared here a try and see what comes of it.