Discover more from Productive Flourishing
A newsletter and community for driven possibilitarians who are seeking full-spectrum thriving, hosted by award-winning, best-selling author of Start Finishing, Charlie Gilkey.
Over 33,000 subscribers
The Edges of Emotion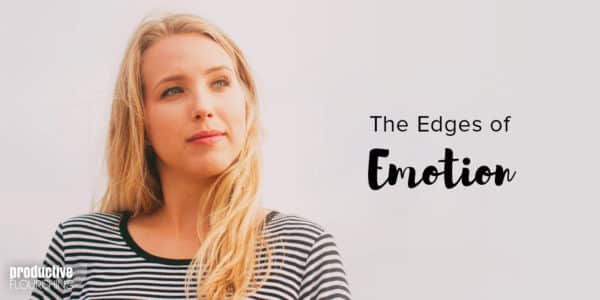 Do you remember a time when you became aware of something in a new way or on a deeper level or with clearer eyes — and it was in that awareness that an important shift happened within you?
I had a moment like that a few weeks ago and it's something that I have wanted to share with you, but I have this sense that my human words aren't going to do it justice. I'm going to try anyway.
If you've been reading these Anchors for a while, it won't come as a surprise to you that this new awareness showed up during my meditation practice.
(A quick pause to recognize how blessed I am to have the time and space to do this internal work for myself and gratitude for all my teachers who have helped me along the way.)
My awareness was this: It's the edges of my emotions that bring me pain and suffering.
When I am fully immersed in an emotion there has never been the same level of pain and suffering as when I dance on its edges. Most especially, when I am on the edges of hurt or sorrow or grief or worry or heartache, the pain can feel like too much to bear.
Of course, when those emotions are present I feel pain and it can be HUGE on its own, but it is amplified and exacerbated at the edges.
But when I allow myself to be fully immersed in the emotion, my ego checks out. I allow the emotion to flow through me. There is no judgment. It just is. The emotion can be so powerful that I am taken under by it or brought to my knees, but it doesn't feel like suffering. Yes, it hurts. It's painful. But, it is also right and it is good and it is necessary and it is holy.
When judgment about what I am feeling is present I know I am on the edges of my emotion. I am not allowing it to be what it is asking and needing, and I am the one who suffers more because of doing that.
If I can allow myself to be fully in it — to be immersed rather than fighting the tide — I will be OK. Nothing I feel is more than I can handle. It's the judgment and the not allowing that brings the pain to a level that feels like more than I can bear.
That's it. That's my clear(er)-eyed awareness.
It's simple. And yet, there is something about it and the way and the timing of how it showed up that I am so grateful for.
It has been work for me to move away from my edges and to just allow and immerse. The more I do so, the more natural it feels and the better I feel, even in my darker periods.
Do you allow yourself to just feel? Or, do you hang on at the edges and increase your suffering? Might you be able to loosen your grip and trust that what you feel is not more than you can handle? Can you trust that you will be OK?
Our way forward is through. We can make it easier on ourselves by allowing.