Discover more from Productive Flourishing
A newsletter and community for driven possibilitarians who are seeking full-spectrum thriving, hosted by award-winning, best-selling author of Start Finishing, Charlie Gilkey.
Over 33,000 subscribers
Don't Look A Gift Horse In The Mouth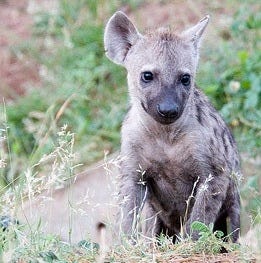 Ever heard the saying, "Don't look a gift horse in the mouth?" It's an old saying that encourages us to take what's given to us with open arms. The meaning of it can be extended much more broadly, though, for we can see "gift" in a broader context, and it turns out that the broader context can make a marked difference to your contentment.
We need to be more like hyenas. Hyenas, if you didn't know it, are such a thriving species  because they're not just predators - they're opportunistic scavengers, too. They'll go out to hunt for their own food, but if they stumble across something edible that another predator's not eating, they'll grab that, too. Even more incredible is that they can eat every part of their meals.
The hunt, of course, is a metaphor for starting with a plan, and scavenging is accepting what comes. It's so easy for us to get focused on whatever we set our minds to do that we lose sight of some of the small gifts that come up during the day. It gets even worse when our grasp inevitably falls short of our reach - not only have we missed out on the presents of the present, but we don't feel the accomplishment of catching the ideas we've been chasing all day.
But I didn't get anything done today!, you object. While there are some days were you really might not get anything done, the more common thing is that you'll do some meaningful things that weren't part of "the plan." This leads to the "yeah, buts." Here's what this looks like: "Yeah, I did write a nice blog post, but I really needed to work on that ebook."
Invoking the "yeah, buts" is nothing short of looking a gift horse in the mouth. You're offered a sapphire necklace, and you say "yeah, but I really wanted a jade bracelet." Imagine if the Universe felt the same way we do when someone throws a "yeah but" at our gift - but it doesn't have to be about a personified cosmos. It's enough to say that the part of you that was seeking contentment got shot down by the other part that got lost in the chase.
Let's flip that "yeah, but" around. Instead of starting with what you did but placing the weight on what you didn't do, say "Yeah, I didn't make much progress on that ebook, but I did write a nice blog post." Notice that the last statement doesn't just forget about what wasn't done - after all, you started the day out on the chase, and it's important to have that as part of the consideration - but it also celebrates what you found on the way.
And therein lies the balanced contentment we seek. We can't sit around waiting for life to throw good things our way; no, we have to roll up our sleeves and till the ground where the seeds of opportunity may land and grow. But we also need to recognize the gifts of good sun and rain when they come. And while I've focused on the presents of a day, it rings true for our lives, in general.
One last thing: learn to accept the small gifts and you'll be surprised by how many bigger ones come your way.
Photo Credit: Mister-E