Discover more from Productive Flourishing
A newsletter and community for driven possibilitarians who are seeking full-spectrum thriving, hosted by award-winning, best-selling author of Start Finishing, Charlie Gilkey.
Over 33,000 subscribers
Daily Family Check-Ins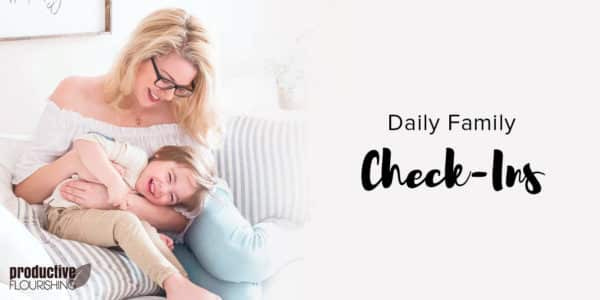 While many of us may be spending more time with our family than we normally would, it's quite possible that we may also be feeling even more disconnected from them than we might realize or think possible. More time together means more connection, right? Not always.
Life has changed considerably for each of us. And with that change we've been doing our best to adjust to our new realities, which has taken up a fair amount of energy and focus. Because much of our energy and focus has needed to be on how to make this new life work, it's possible that less energy and focus has been on the deeper connection with our partners and/or children in the home.
If you are reading this and realize that your interactions with your partner or kids have been surface level — or just not at the depth that you would really like them to be — consider implementing daily family check-ins.
Here's one way you might want to do this:
Commit to eating breakfast together, with no electronic devices at the table or television on in the background. Breakfast may only last 15 minutes, but it can be a very connective and meaningful 15 minutes together at the start of your day. You can ask each other a few questions (or even just one) to share what is on your mind and in your hearts:
What are you looking forward to today? Why are you excited about it?

What was the best part of your day yesterday?

Is there anything that you are worried about today?

What would you like us to do together as a family this evening?
If you would like to do this in the evening instead (or both morning and evening!) here is how you can do this later in your day:
Commit to eating dinner together, again without any electronics. As with breakfast, dinner may be short, or perhaps it can last a bit longer as you each have more time in the evening. Commit to sitting together and checking in with each other. Here are a few things you might want to talk about:
What was the best part of your day?

What was the hardest part of your day?

What would you like to plan for us to do together as a family this weekend?

Are there any feelings that you are having that you would like to share?
While this is a very simple practice, it may not be easy. Be gentle and kind with yourself and your family if you are trying to establish new or different routines around checking in with one another.
If you have always allowed electronics at the table and now you want to change that, it may be a big change that takes patience from everyone. If you have eaten meals on your own whenever you've had time, it will take patience and communication to set a routine with others. If you are not used to sitting at your dining table together and normally eat around the television, it may take some time to change that pattern.
The results of these changes are worth the challenges that may come up, as you become more deeply connected to the ones you live with. Be kind and patient with yourself and your loved ones.