Discover more from Productive Flourishing
A newsletter and community for driven possibilitarians who are seeking full-spectrum thriving, hosted by award-winning, best-selling author of Start Finishing, Charlie Gilkey.
Over 33,000 subscribers
Create Ripples of Goodness
Editor's Note: This is a continuation of our core conversation on "Great Connections Lead to Great Ideas." Yesterday, Bob Gower wrote about how good conversation makes good software. Today, Dr. Mollie Marti encourages us to create ripples of goodness.
*****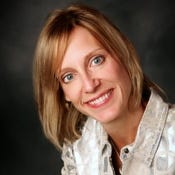 Walking down the hallway of the Iowa College of Law in early 1990, my professor beckoned me into his office. He didn't mince words. "Mollie, I have two things to say to you." Pointing his index finger in the air, "First, you need to apply for a federal clerkship." Another finger joined in to emphasize his point. "Second, you need to apply to Judge Max Rosenn." Rick Matasar had seen me through some turbulent waters as my advisor for the Iowa Law Review. I was Senior Articles Editor, in charge of reviewing submissions from faculty members across the country and managing a staff of editors. Rick mentored me through a crash course in handling political pressure. "What's so special about Judge Rosenn?" "Clerking for any judge is a chance to learn about law, lawyers, and society. Clerking for Judge Rosenn is to learn about these things from a master. He has a clear first rule for judging, lawyering, and life in general: when in doubt, act humanely. Be fair, use the law to reach just conclusions, and protect those who need the most protection." Rick paused as his mind traveled back in time, "I remember asking him as a young clerk, 'What is the quality of justice?' He responded, 'It is fairness.' He taught me not to seek the truth, but the truth of the case." For the next half hour, I sat in a chair by Rick's desk as he shared stories and lessons learned from his mentor beginning twenty years previously when he was a young law clerk. As I listened to how this judge shaped the way my professor looked at the world, it struck me how much emphasis he was placing on intangibles and values well beyond the learning of the law. A piece of a puzzle fell into place. The man who had deftly guided me through Law Review politics, teaching me when to yield and when to stand my ground, had in turn been schooled by his wise mentor. I did go on to clerk for Judge Rosenn, a decision that changed the course of my profession, my marriage, and my life in dramatic ways. Judge became my life's greatest mentor. Dozens of clerks who served him during his thirty years on the bench share this sentiment. Yet, the impact of Judge's caring, kindness, and relationships he cultivated daily far exceeds his direct influence on the law clerks he mentored. How? Because each of his clerks have gone forth teaching and showing up in a different way as mentors to others through his love and lessons. They now stand as deans of law schools, professors, partners at prestigious law firms, top government officials, CEOs of multi-million dollar corporations and nonprofit organizations, and bestselling authors. Rick, now Dean of the prestigious New York Law School, recently wrote, "For each of the past 30 years, Judge Rosenn has made an appearance for my students – the hero of life lessons as a lawyer, as a community leader, and as a person. His lessons, advice, and warmth live on in his law clerks and in those we mentor. All who worked with Judge saw his justice and compassion at work daily in every contribution, every phone call taken, every letter answered. He lived his life to serve, and those around him grew by his very presence. A presence that lives on through [his students]."
How can you more intentionally share your mentors with others?
This may be done in large and small ways. It may be through writing. It may be through speaking. It may be through personal introductions. Most powerfully, it will be through serving as a role model as you live out the lessons that have been gifts to you. Develop a practice of asking yourself each time you experience somebody positively changing your life: How can I share this teacher and lessons with others? When you do this, you not only enrich others' lives, but you also create ripple effects that will continue to impact others long after your mentor... and you... are gone from this world. More about Mollie: Mollie Marti, author of Walking with Justice: Uncommon Lessons from One of Life's Greatest Mentors and founding editor of the Best Life Design emagazine, savors passing on lessons gleaned from all the wise people who cross her path. Visit her at http://www.drmollie.com.
On Monday, Danielle LaPorte will tell us why it's important to relentlessly search for the why behind the what. See you then!