Discover more from Productive Flourishing
A newsletter and community for driven possibilitarians who are seeking full-spectrum thriving, hosted by award-winning, best-selling author of Start Finishing, Charlie Gilkey.
Over 33,000 subscribers
5 Benefits of Connecting with Your Remote Team in Person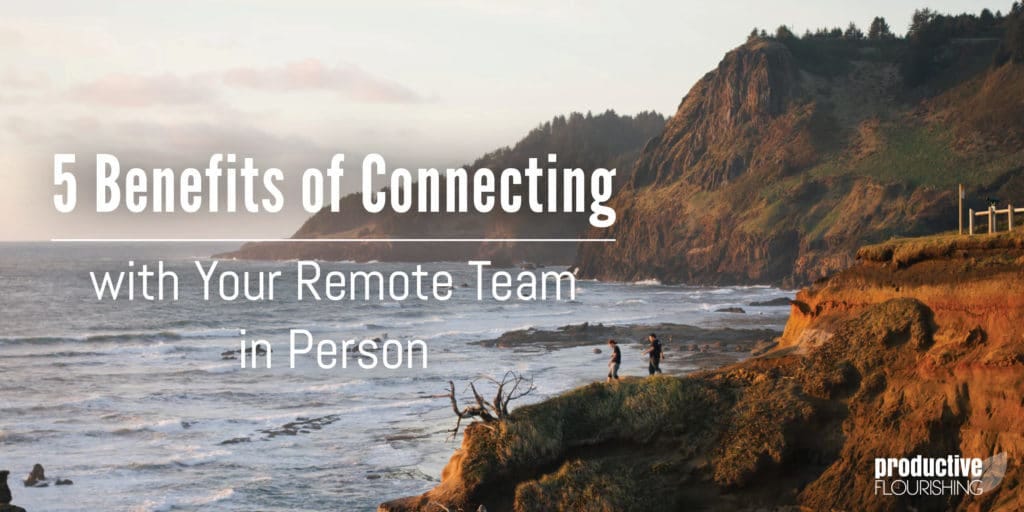 This week, TeamPF and I are on a retreat at the Oregon coast. I've made it a point to get us all here because one of the biggest oversights virtual team leaders make is not bringing their teams together at some point, if ever.
For some setup, we've built our team to be a remote-first team, even though four of the five people on retreat together actually live in Portland, Oregon. Five years ago, we had offices downtown and worked more side-by-side, but we found that we actually preferred to work from home by default rather than commuting downtown, as much as we loved working with each other in person. We also learned that being remote-first actually made us operate better — our planning, communication, and systems had to be better, and as those got better, we were able to do more with fewer people and less meta-work.
We decided to go on a team retreat for several reasons:
We have a mixture of new and existing teammates who have never met. In fact, this is actually the first time we've met Shannon, our business and client service manager for the last 2.5 years, in person. Connecting in person for a few days, in my experience, is equivalent to hanging out online for a few quarters, if not years. (Tweet this)

By being in person, we can disconnect from our normal distraction-prone communications and make the conversations and connection be the primary activities we're doing rather than relegating them to being the stuff we do in-between everything else we do throughout the week. In that sense, we are disconnecting from everything else to connect with each other.

While we do a good job of addressing decisions and business process improvement stuff continuously, we've had some major decisions piling up that we'll be able to work through in real time better and faster rather than spending the next 8 weeks in asynchronous communication. Sure, we could meet via Zoom, but like I said above, those meetings and conversations come in-between everything else we might do.

As I've said before about personal retreats, a change in context can result in a change in thinking. And having a mixture of founders and new hires means that we get to take the time to question some basic assumptions that might otherwise go unquestioned, leading us to better clarity and insight on the what we're discussing.

Given the way we've laid out the week, we have ample opportunity for training and co-working time, too. We've set it up so that we're spending only about half the time with a tentative agenda, but the other half of the time is up for co-working and training on some of our core systems. During the debrief of our last launch, we highlighted the fact that our launches are more stressful than they need to be because we have some skills bottlenecks where only one or two people - namely, me - knows how to do something. This is an opportunity to address those issues while they're still warm but not hot.
As we were discussing the outlay of the week, I let the team know that #1 was truly the main goal of the week. Of course we'll get a lot done and do a lot of working on the business, but what I most want is for these beautiful humans that we have the great privilege of working with is to get to know and see each other better. The bonds we'll form transcend and catalyze the work we'll do together.
When will you be connecting with your remote team in person?