Discover more from Productive Flourishing
A newsletter and community for driven possibilitarians who are seeking full-spectrum thriving, hosted by award-winning, best-selling author of Start Finishing, Charlie Gilkey.
Over 33,000 subscribers
The First-Year of College Survival Guide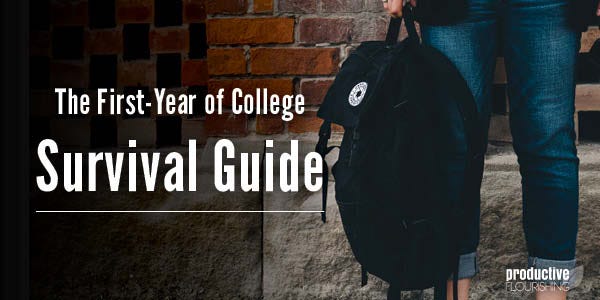 Editor's note: This is a guest post by Ryan McRae.
Most first-year college students have a startling realization around October, when Halloween decorations are being put up. It hits them as they walk to class or talk with their roommate. But most of the time, the realization happens while they are sitting in class, hearing the professor talk about their final paper or project that is worth 70% of their grade.
This is the realization: They are failing their first semester. At best — solid Cs. Papers were late because they didn't realize it was due that day. Studying for tests was neglected because they stayed out too late or attempted to "study" while the campus slept. They've hit a slump with their academics. By the time they realize it, they might be too late to climb out of it (and they're really wishing they had Googled "college survival guide" months ago).
You see, the habits that got them by in high school simply don't work in college.
If you are investing time and resources into higher education, don't let this be you or someone you know. Instead, use strategies that set your time, energy, and attention on your classes and allow you to go to all the extra-curricular activities your heart desires. (Tweet this.)
Syllabi and Your Calendar
On your first day of class, you usually receive a syllabus that outlines the professor's expectations and what is due, when. When you get your syllabi from your professors, transfer every single date into your calendar. Every. Single. Date. Once that it is done you will see what your BIG, MEDIUM, and LITTLE projects are.
BIG: large papers, big tests, group projects, books to read.

MEDIUM: medium papers, quizzes, articles to read.

LITTLE: small reflection papers, minor quizzes, including pop quizzes.
Now, create reminders on your calendar for upcoming projects. There is no point in having a due date if you don't know what you should work on in the next week or month. To set your reminders, count back from the due date. Then, add a reminder for all the things you need to work on, whether it's a large paper that needs to be researched at the library or an article that needs to be read before midterms.
BIG: Set a reminder every week, three weeks before the assignment is due.

MEDIUM: Set a reminder every week, two weeks before the assignment is due.

LITTLE: Set a reminder the week before the assignment is due.
This way you see, at the beginning of every week, what is coming up and needs to be addressed. When you start your week, you know exactly what to work on because you see when it's due.
The Golden Hour of Studying
I teach at a university campus, so I've heard the best and worst excuses. Most of my students, though, lament the lack of time to study:
"But I'm so busy."
"There's so much stuff to do!"
"How can anyone expect us to get all of this done?"
The simple truth is that there is enough time, but our collegiate habits sometimes get in the way of our studying and writing.
Let me let you in on a little secret: Every college student has a "golden hour" of studying, a time during the week when it is optimal to study, to get stuff done, and crush the week.
The golden hour is between 6:00 a.m - 12:00 p.m. on Saturdays and Sundays. Here's why — hardly anything goes on then. The library is your kingdom. The computer lab is free. The campus is yours.
Now getting up at 6:00 a.m. probably doesn't sound like fun. But even if you got up at 8:00 a.m., you would get three hours of uninterrupted studying done and ease up on the stress of the week. (Plus, no one is up that early taking Instagram photos and updating Facebook.)
So get up early on the weekend and crank out the work. Your friends might be sleeping in, but they'll pay for it later when they have to pull all-nighters.
The Best Reason to Stay on Campus
If my students had a class at 9:00 a.m. and another at 3:00 p.m., many of them would return to their residence hall and either crash or play some Xbox. They would then then slog back across the campus around 2:45 p.m. to get to class.
This is a rookie move.
When you head back to your room, your brain instantly shuts off the "studying and learning" part. You are now in Fun mode. Social mode. You aren't in Study and Get Stuff Done mode. When you head back to class, you have to restart your Scholastic mode.
The stopping and starting typically leaves you drained. So stay in your Scholastic/Productive mode. The best advice I give students  is to stay on campus — the campus proper, not your residence hall — until the work is done. If you have time between classes, hit up the library and chip away at a project or read a book. You can visit your professor's office hours, too, to just connect with them or ask them to look at your notes or a paper.
Whatever you do, stay on campus. Get the work done.
The Best Lesson My Professor Ever Taught Me
When I was an English major, I was buried in reading the classics my freshman year. I couldn't keep up with the reading, and I tried. I remember voicing this to my literature professor.
She tapped her pencil on the desk and asked, "Well, what books are you working on now?" I listed them off.
She said, "Where are they?"
I let her know they were back in my dorm room, on the bookshelf, very well organized.
She pointed at me with that Blackwing No. 2 and said, "That's your problem. If you are going to get through the reading, you have to carry a book with you all of the time."
She went on to tell me that every single break, any time I had to wait, I needed to read 5-10 pages. If I could do that three times a day, I would finish 15-30 pages a day and start making headway on my assignments and projects. (This also opened my eyes to students who walked and read at the same time.)
I've held to this habit for nearly 20 years. In that time, it has helped me read at a much greater rate and enjoy the art of reading.
The Last Bit
Wear shower shoes in the shower. All the time.
Have a spare pair just in case. If they get gross, throw them out.