Discover more from Productive Flourishing
A newsletter and community for driven possibilitarians who are seeking full-spectrum thriving, hosted by award-winning, best-selling author of Start Finishing, Charlie Gilkey.
Over 33,000 subscribers
Case Study: Kristin Tweedale, Finding Business Clarity Through Structure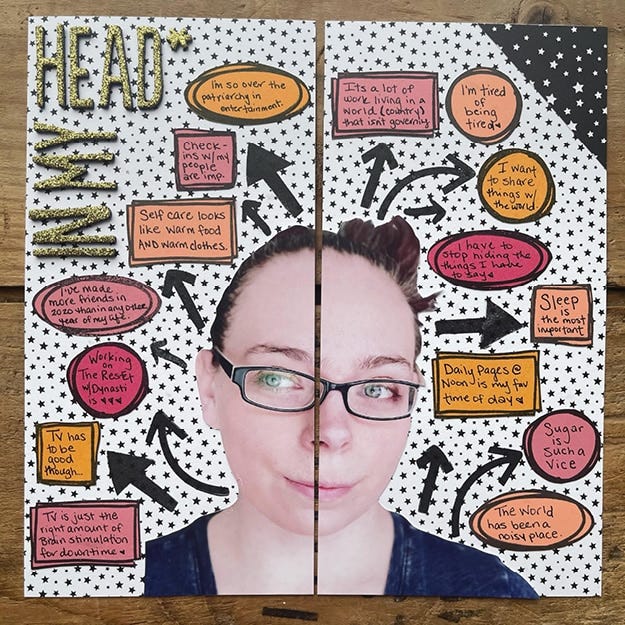 Kristin Tweedale is the founder of The Awesome Ladies Project, a feminist scrapbooking membership community and host of the Crafty Ass Female podcast, based out of East Lansing, Michigan.
A few years back Kristin fell into a massive creative rut, where everything felt arduous and seemed to take five times longer to accomplish, so she created a personal daily art practice in order to regain a tiny bit of structure in her daily life. Prior to the pandemic, live events took up a lot of the focus of Kristin's business. So needing to change gears, in April 2020 she took her personal daily art practice and created a 30-day, daily live online course. During those 30 days, her community became so tight-knit that the practice stuck, and these live daily events are still now one of the pillars of her business, even in these COVID times.
"Making that pivot from having a community that helps women teach themselves how to scrapbook the stories of their lives, to then creating a habit that will teach you how to tell that same story but through a daily art practice... that has been a huge change for me."
Kristin stumbled upon Productive Flourishing some time ago, after downloading the free planners and reading the blog. When she heard about the Productive Flourishing Academy, she signed up right away. As a person who works from home, she says, the Academy has really helped with structure. She particularly loves the smaller group of women that she's connected with within the Academy, giving her even more structure to her weeks.
Structure and Accountability
Kristin says that this structure and accountability has made a huge difference in her life. For example, having the Tuesday Coworking sessions ensures that she'll show up and have a dedicated amount of time to work on something specific, like social media or content writing.
"It's a schedule that's both flexible enough that if stuff happens, there are no dire consequences. The world doesn't end if you miss a meeting. That's life, and everyone understands that life happens – and life is really happening right now."
Kristin says that she's found her people in the Academy, and that Charlie and Angela have a way of pulling the right people together. She's in a number of online communities – including her own – but says that the comradery isn't quite the same as it is with the members of the Academy.
Business Clarity
Since joining the Academy, Kristin now has clarity around the projects in her business. It's given her permission to put things on the backburner and to do things her own way. She's since turned her daily art practice into a sellable box.
"I was so excited, and moved so fast on this project that 90% was done on the Sunday after Momentum Day."

To anyone on the fence about joining the Academy, Kristin encourages you to join – but only if you actually want to do your projects and get things done. The clarity gleaned from joining the Academy will help to figure out what is and what is not important, and carve the best path forward for you and your unique circumstances.
"There's so many resources on how to actually complete your projects step-by-step. Everything gets broken down, and you figure out what works for you in your life right now."
If you're ready to gain clarity on your business and your life, join us in the Academy. This loving community of like-minded creatives, entrepreneurs, and leaders just like you is waiting to accept you with open arms.