Discover more from Productive Flourishing
A newsletter and community for driven possibilitarians who are seeking full-spectrum thriving, hosted by award-winning, best-selling author of Start Finishing, Charlie Gilkey.
Over 33,000 subscribers
Why You Should Write a Book (or Booklet) to Build Your Brand and Your Business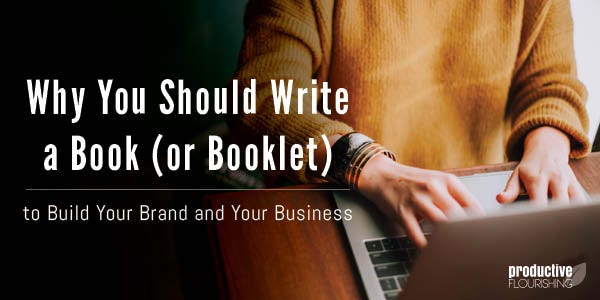 Editor's note: This is a guest post by Chris O'Byrne.
Building a personal brand is one of the best ways to build your business. Most people think that building a brand is best accomplished by publishing content such as video, audio, photos, and text via social media. Between Facebook, Instagram, YouTube, LinkedIn, Medium, podcasts, and a hundred other platforms, you could spend every waking moment publishing content. It's not the most effective method to build your brand, but if you post enough content, you'll slowly build it and your business.
There's an easier way to build your brand—write and publish a book or a booklet. Look at all of the people who have dramatically boosted their brand through books: Tony Robbins, Lewis Howes, Brendon Burchard, Grant Cardone, and on and on. Yes, they've done a lot of other things, but their books put them on the map. PRODUCTIVE FLOURISHING Why do books and booklets do such an amazing job of building your brand? There are three big reasons.
The process of creating a book usually involves distilling your skill and experience. Reading Brendan Burchard's book High Performance Habits is like taking a semester-long course in high performance. Reading Lewis Howes' booklet, The Millionaire Morning, makes you feel like you've spent an entire weekend learning from Lewis himself. Your book or booklet could offer the same to readers and establish your brand's expertise in the marketplace.

Physical books and booklets hold a hefty amount of perceived value. We experience a visceral feeling of high value and potential when we hold them in our hands. We feel as if we hold the knowledge of the ages, and the possibilities seem unbounded. Your own book could open up vistas of potential and possibility, too, and cause people to want to work with you. (Tweet this.)

People want to connect with people. They want to hear people's stories. And people want to hear your story. They want a glimpse into your life. A book or booklet is a great way to offer that insight while simultaneously building your brand and business opportunities.
Because of these reasons, even though your booklet may have the same amount of words as five to ten long Facebook posts, the impact it has is many times greater. Social media posts take a long time to build up in a person's system. Each time we see someone's post, it adds a bit of credibility. If you don't see any posts for a while, you stop thinking about the person or brand. When they start posting again, it takes a while to build their credibility back up before you can continue forward with them.
With a book or booklet, however, it's like getting several months' worth of the benefits of social media posts in one big shot. Writing and publishing a book carries a lot of weight in the minds of your readers. Not only that, but you can extract a lot of social media posts from your booklet and get the benefits of both methods for building your brand and business.
Also, the effect of a published book or booklet continues to work for you, even when it's not being read. Try doing that with social media. Once it's posted, it disappears into the Internet void. That doesn't happen with books. We don't put books into a drawer or box somewhere. We put them in a special piece of furniture designed to hold them. When we glance at the shelf, we're reminded of our favorite authors and the value of the book—even if we never actually read it. I can buy someone's book, never crack it open, and put it on my bookshelf, and their brand still grows even though I don't read it. That kind of influence is hard to beat, which is why I recommend you write a book. It'll help you build your brand and business for years to come.