Discover more from Productive Flourishing
A newsletter and community for driven possibilitarians who are seeking full-spectrum thriving, hosted by award-winning, best-selling author of Start Finishing, Charlie Gilkey.
Over 33,000 subscribers
How Failing to Budget Can Kill Your Productivity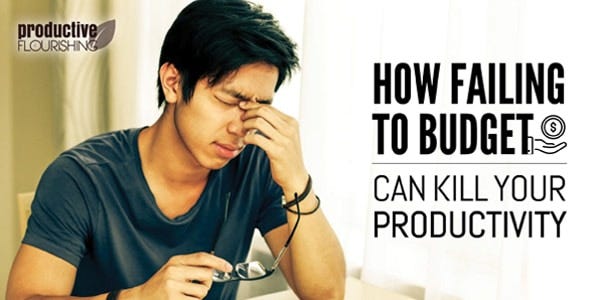 Editor's note: This is a guest post by Jeremie Miller.
You are sitting at your computer, cursor blinking on your calendar app, eyes shifting back and forth from your written plan to your calendar:
Blog post last week... missed

Sales page... partially finished

Emails to promotional partners... unsent
You rub the bridge of your nose as you glance at the clearly written plan sitting on your desk. Daily tasks, weekly projects, monthly and quarterly objectives: each and every step set out and ready to act on.
All you had to do was follow each step, one after the other.
But it didn't happen. Day in and day out, you dodged tasks and missed important milestones. Now with just days until everything is supposed to go live, you are behind on your plan.
Oh, and what's that sound getting louder? Has somebody invited the entrepreneur's best friends over? Have doubt, inadequacy, and maybe even shame come to visit you and your failed plans?
What happened?
What happened is that productivity systems — whether you use a book, paper, or an app — are missing an important factor, and that omission is leading to your sabotaging your own best-laid plans. Productivity systems forget to take the COST OF THE PLANS into account.
Productivity vs. Money
Whether you are planning a blog post, setting up a speaking engagement, writing a book, building an ecourse, planning a launch, determining production processes, or setting up distribution channels, there are costs associated with the plans and tasks you set for your business. When you don't consider those costs up front, you set yourself up for a conflict.
This battle between your productivity and your money begins at the top, during your annual and quarterly planning (or monthly if you aren't planning at the annual and quarterly levels yet).
When you're making your annual and quarterly plans, it is easy to think big and to shoot for some huge wins with your business. You have so much time available on the calendar to plan objectives and set milestones that you end up with a surprisingly large list of things you want to accomplish in the coming months.
However, if you don't at the same time budget for the cost of each plan and determine how those costs line up quarter by quarter, you don't get a clear picture of how quickly the expenses will add up or how quickly your bank accounts will get depleted (and your credit cards maxed out).
At the top level, your plans look ready to go. You think, "It's going to be a great year."
The productivity-vs.-money conflict begins.
You chunk your larger plans down into monthly projects, organize these projects weekly, and set your daily tasks. You now have everything divided into small, doable pieces.
You are ready to get to work. You are going to be a productivity all-star!
Then, as you start to work your plan, something interesting happens. You start to wonder, consciously or subconsciously, "Can I afford to do all this?"
This is where the doubt, stress, and trouble begin. This is where your worries about money start to pull your productivity plans into pieces in one of three ways:
Subconscious sabotage

Hitting the brakes

Spending, then recovering
Subconscious Sabotage
You may have no idea how much money your plans will cost to implement, but your subconscious knows. As you complete your daily tasks, your subconscious is quietly keeping an approximate tally of money spent and realizing how much all of this is going to cost.
When this mental tally of expenses gets close to or exceeds your tolerance for financial risk, your subconscious kicks in and starts interfering with your well-laid plans, causing delays and pushing tasks back until tomorrow or the next day. Your original ambitious plan starts to fall apart, doubt crawls in, and you wonder why you can't make any of this work.
Now, not only do you need to come up with a new plan, but you also aren't confident that you will complete that plan after you make it.
Hitting the Brakes
If you manage to dodge the mental blocks your subconscious is throwing your way and continue with your planned projects, you may find yourself running into the next productivity-vs.-money block.
You continue to complete your daily tasks and hit your project milestones. Each day you are focused and checking the various tasks off your list. Everything is going according to your plan...
...until you realize that you have a big increase in expenses. Money is flowing out of your bank accounts fast, and you're not 100% clear on why. You get anxious when not only are your bank account balances getting lower, but the numbers on your credit card statements are getting higher.
Everything is going according to your plan, EXCEPT that this financial imbalance wasn't part of the plan. (Tweet this!)
You don't want to spend any more money. You panic. And you stop. You decide you just can't afford it. You put on the brakes and bring the whole project to a halt. The remains of the plan sit before you, unfinished.
Now you need to figure out what to do next AND how you are going to make some money back.
Spending, Then Recovering
In some cases, you might push through the mental blocks caused by not knowing your costs. Instead of hitting the brakes, you might plow ahead if spending money you don't have, with the expectation to pay it back from the proceeds of your project, falls within your range of tolerance for business risks. That can work for a while...
...until it doesn't. Until the money you make by following through with your plan to the end not only doesn't cover the original expenses, but also leaves you with no money to move your next plan forward or do important things like pay yourself.
Now you end up going in one of two directions:
You decide to put a new plan into action, without reviewing the costs (again), and push that plan forward, hoping to make enough money to pay off both the current plan and the past plan (or plans). This decision sends you down a high-risk path of going further and further into debt, hoping that the next offer or launch will be the big payoff that makes it all worth it.
Or:
You decide to slow everything down, delay your next plan, and start cutting expenses, hoping that you can repay your costs (and debt) and get your business back on its feet before trying to make some money with the next project on your list.
Each of these possibilities — subconscious sabotage, hitting the brakes, and spending and then recovering (I have successfully done each of them in my business) — can be avoided by adding some steps to your planning process.
PRODUCTIVE FLOURISHING
How to Add Budgeting to Your Productivity Tools
Changing your planning process to include a budget doesn't have to be difficult. Here are some suggested steps:
Determine how much of your current savings you are willing to spend to put all of your plans into action.

Determine your tolerance for financial risk: How much debt are you willing to incur to put your plans into action? (This number is the total for all of your plans.)

Determine how much of your monthly cash flow you can put towards your projects (if you have positive cash flow).

Follow your regular planning process at the annual and quarterly levels.

For each project, estimate how much money is needed to complete it.

Compare the cost of completing each project with the numbers from steps 1–3. Your total project costs should not exceed the total of these numbers.

Adjust the size and timing of your projects so that costs are reduced or spread out and you can stay below the spending and debt limits you've set for yourself.

Convert your projects into task lists that move your projects forward at a pace that fits within the limits you have set.
An Example: The Ebook
In 2015 I used this framework during my planning process. One of my plans was to create a free ebook for my business. Here is what that process looked like:
Step 1: I had approximately $10,000 in business savings.
Step 2: I have set a $5000 debt limit for my business. At the time of my planning, I had $485 of debt, leaving me with $4515 of wiggle room.
Step 3: I had positive cash flow in my business and had decided to put 20% of my business revenue towards new projects in my business.
Step 4: During my planning process, I decided that I wanted to create a free ebook for my business.
Step 5: I asked some colleagues for estimates and determined that the cost of the editing and design for the ebook would total $2700.
Step 6: I wanted to spend only $2000 of my business savings on the project (the other savings were already assigned to other areas of my business). Because the ebook was going to be free and wouldn't directly generate income, I didn't want to use my Line of Credit to cover the last $700. This meant I would need to use money from my monthly cash flow for that.
Step 7: I adjusted the task list for creating the ebook to spread the process out over two months. By doing this I could write the ebook and pay for the editing and initial design, while generating more cash to cover the final design costs.
Step 8: Happy with the new plan, I started generating the task list and timeline for getting my ebook written, edited, designed, and put on my website.
Productivity AND Money
At first, building a money step into your planning may feel like you are slowing your business down. Being realistic about the costs of all your great plans can, in the beginning, put a damper on how you feel about the upcoming year.
However, as you add budgeting to your planning process on an ongoing basis, you will discover a balance between productivity and money that fits you and your tolerance for financial risks. This balance will give you a sense of financial security so you can take calculated risks, grow your business, and have the impact you want.
You CAN afford your productivity.