Discover more from Productive Flourishing
A newsletter and community for driven possibilitarians who are seeking full-spectrum thriving, hosted by award-winning, best-selling author of Start Finishing, Charlie Gilkey.
Over 33,000 subscribers
What Brexit Can Teach Us About Our Creative Work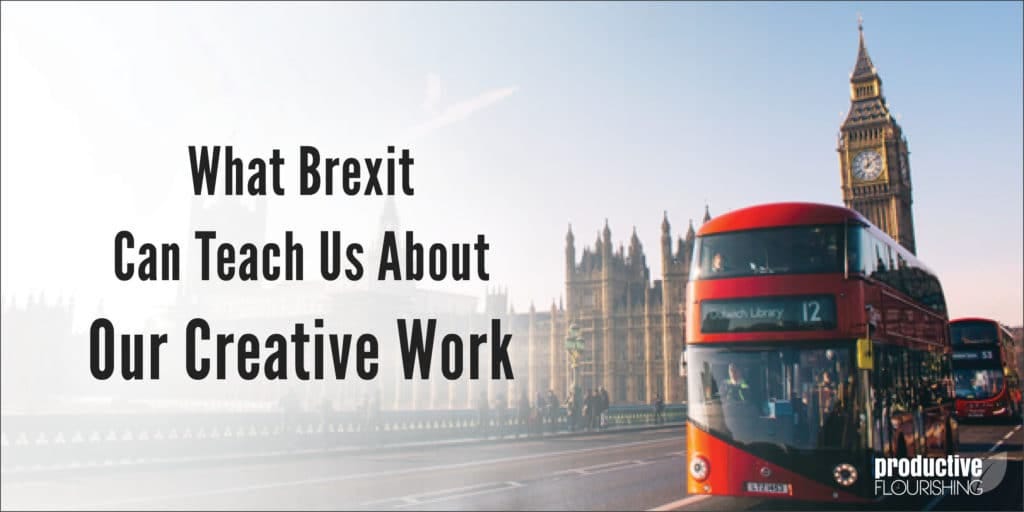 The economist and social philosopher in me is fascinated by what's going on with Brexit, but I'll save those thoughts for an essay on another day. What I'd like to talk about today is the importance of the "invisible" systems that enable us to thrive and do our creative work.
One of the things that's become clear after Britain's surprising vote to leave the European Union is just how critical the ties with Europe were for the UK's prosperity. The positive alliances, systems, reciprocal citizenship, and interconnected economies with Europe were largely invisible to many people because they've been integrated for the last thirty years. As with our infrastructure of roads, electricity, water, waste management, internet, postal service, and so on, it's easy to not see that they're the foundation for the collective productivity of our society.
There's a tendency for us to be unaware of positive persistent conditions and hyper-aware of negative conditions. (Tweet this)
It's as if we're wired to solve problems but not to appreciate the solutions we already have, especially if someone else generated those solutions.
I'm sharing this today because I want to flip the polarity of your thinking about your creative infrastructure. Rather than focusing your attention on the broken printers, "unnecessary" meetings, or byzantine procedures, I'd like you to consider how much those are front-of-mind because of how much other stuff just works.
Think about the powerful "givens" we have in the Western world. We can count on:
A paycheck that just hits our accounts due to our banking infrastructures and legal rules that make sure your employers pay you

Driving on well-maintained roads

Hitting a button to call someone

Putting something in the mail and its being delivered

Our coworkers being at their real or virtual desks

Food being in the grocery stores

The lights coming on and staying on

Relatively clean bathrooms that work

Hospitals and doctors on call if we need them

Being able to buy foreign goods when we want to
I could go on, but you get the point. I work with clients around the world, including in Africa and Asia. Our givens are not global givens.
I'm also aware that not everyone has all of the items above. That people are upset about not having them proves the point that they're givens.
Let's be very clear here: the creative class depends on those givens to be able to do their work and for the work to be valued. Without those givens, you don't have a creative class — at most, you have creative individuals. That may seem subtle, but it's a huge difference.
So, yes, let's keep solving the problems of broken printers, unnecessary meetings, and unnecessary complexity, but let's do it with the appreciation of how much is working for us.