Discover more from Productive Flourishing
A newsletter and community for driven possibilitarians who are seeking full-spectrum thriving, hosted by award-winning, best-selling author of Start Finishing, Charlie Gilkey.
Over 33,000 subscribers
How to Refresh Your Branding When Your Work Evolves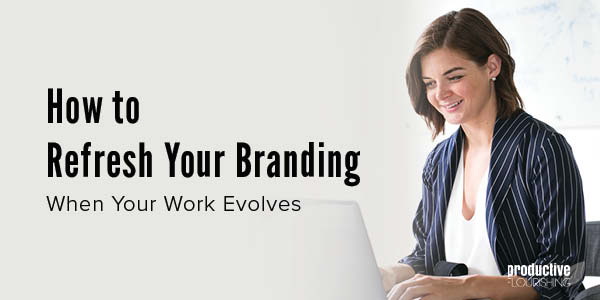 Get more tips on keeping your business – and brand – fresh with Charlie Gilkey's award-winning book Start Finishing. Order yours today!
Editor's note: This is a guest post by Shahrzad Arasteh.
How you and your work show up in the world is extremely important, and changes as your career evolves. How do you talk or write about who you are as a professional, the work you do, and why it matters? When was the last time you explored how you are known, your reputation, your branding? (Tweet this.) (I wish we had a better word for it, but for now "branding" is one of the simplest ways we have to communicate the concept.)
When you first started your small business or creative endeavor, you may have been very intentional about making sure it was clear what you offered, who you worked with (or what problems you solved), and how you made a difference.
For instance, let's say someone started with the message that they help healthcare professionals reduce their stress and be more effective by providing small-group and individual yoga and meditation sessions.
This message makes it pretty clear that the person leads yoga and meditation classes, specializes in helping those in healthcare, and that their clients will probably become more calm and effective in various areas of their work and life. Messaging like that will make it more likely that potential clients will see themselves reflected in it and consider the teacher as someone they might want to work with. Having this reputation (branding) can also result in referrals, as others associate the teacher with the specific services and types of clients they specialize in and think of them when someone they know may benefit from their offerings.
Is It Time to Change Your Messaging?
In the example of our yoga and meditation teacher, three years later they may have changed their focus to work with high school students, or they may have shifted from teaching yoga to facilitating workshops for organizations, which means: the time has come to update their messaging!
If this new direction is not communicated effectively or understood by the teacher's ideal audience, it will be harder to be found by potential clients and may make it more difficult to clearly show the teacher has the experience and expertise matching their newer area of focus. In other words, if people still think of them as the yoga teacher who works with healthcare pros, those people are not likely to contact them when they're looking for a trainer to lead a team-building workshop for their financial services company.
Now, if it has been a while since you yourself have looked at how you and/or your business may have changed, it's a good idea to take some time and reflect on this (and of course periodically in the future as well). Below are three steps to help you through evaluating your messaging and effectively communicating what that process unveils. PRODUCTIVE FLOURISHING
Diving Deep into the Evolution of Your Work
1. Self-Assess
How do you begin to clarify or confirm where you are and where you want to go, then evaluate whether your message, branding, and how you share yourself are aligned with this goal? The first step is self-assessment. Some of the areas to assess include:
values

interests

preferred skills (pay special attention to what you want to do more of, while also noting skills you don't really want to use now—no matter how good you may be at them)

experience

ideal environments

the kinds of clients or issues you like to work with
There are a number of ways you can identify these, including informal and formal assessments. With an informal assessment, you may take some quiet time to reflect and write a list of your top values, skills, etc. or use a worksheet or exercise to capture these. An example of a formal assessment is an interest assessment a career professional gives you and then reviews the results with you.
In terms of your skills, preferences, and interests, consider which ones have changed over time. Did you used to enjoy using your coaching skills to work with clients but now prefer to write books and other resources to share expertise and support with others?
2. Prioritize
Once you have identified a list for each category mentioned in the first step, prioritize them in order of importance to you. For instance, your list of values may include your top seven values, while your list of the kinds of clients or issues you want to focus on may only contain three.
Put together the top 3-10 selections for each category you're evaluating to see how your unique combination of skills, interests, priorities, etc. work together. Also examine how the areas come together to create a picture of where you are now and want to go in the future. You may find, for example, that you really want to:
use your writing and strategic communication skills.

leverage your past experience in journalism to help organizations effectively share their message through major media outlets.

specifically work with nonprofit organizations as a communications professional.
3. Update Your Messaging
If your current work reflects where you want to be, that's great. Now make sure this is how other people know you. Also check that your messaging — whether it's your resume or bio, website, online profiles, or how you introduce yourself at professional events — accurately captures what you do.
If you're transitioning to a new type of work or area of focus, the same considerations apply. You want to be known for this evolving area of focus, but you'll likely need to incorporate a few additional activities and allow for a longer timeline to establish your expertise and network in this area. You may, for instance, need to get a specific certification or look for a project in your new area of focus to build your portfolio.
At the same time, you don't need to wait until you have the perfect profile or branding statement to move forward. Once you have enough of the pieces to start sharing your message (your professional identity, who you help, and how you make a difference) in a way that supports your "what's next," start working on it and sharing it.
Then keep refining your message and adding to it as you think of additional points that are relevant, and as you grow your expertise and experience. Remember that once you have this messaging, you're not done.
As the months and years go by, you'll need to assess how your skills, interests, and the way you want to make a difference through your work have changed. Complete the self-assessment periodically, prioritize your goals and next steps, and realign your messaging to reflect the next evolution in your career or business.