Discover more from Productive Flourishing
A newsletter and community for driven possibilitarians who are seeking full-spectrum thriving, hosted by award-winning, best-selling author of Start Finishing, Charlie Gilkey.
Over 33,000 subscribers
Beware the Siren Call of the Easier New Project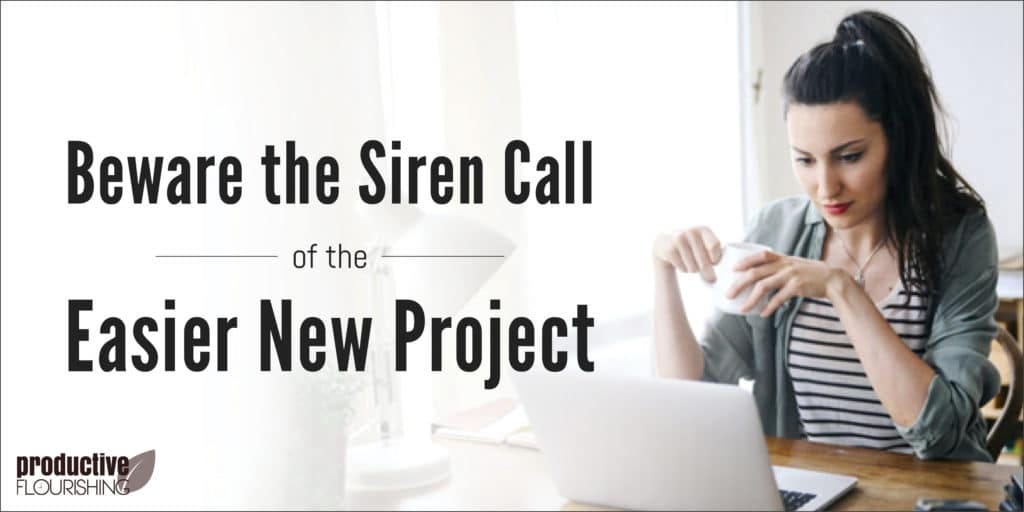 I'm just coming back from CampGLP, where I gave a couple of Start Finishing workshops. The key point of my workshops is to give people the tools and mindset they need to start finishing the projects that matter to them. In case you're curious, yes, that's the subject of the book I'm currently writing.
One of the topics I discuss in the workshop is the fact that every project that matters to you will come with its ample share of thrashing and flailing. Once you're deep in the throes of thrashing on a project, it's easy to get discouraged and look for an easier project to start working on.
Beware the siren call of the easier new project.
For some reason, we think that switching to an easier project makes the real challenges we're facing with the current project go away. If you're stuck on your project because your perfectionism is feeding you in some way, then you're going to carry that same bug with you into the new project. If you can't get momentum on your current project because you're distracted by something else, you're likely to be distracted when you choose that new, easier project, too. If you're reluctant to ask for help on your current project, you're probably going to be reluctant to ask for help on the new project, too.
And that's the thing: thrashing is very rarely about the work itself. More often, it's about the story you're telling yourself about the work. Unless you're changing your stories when you change projects, you're going to end up in the same position.
Thrashing could be seen as a sign that you should do another project. The reality, though, is that it's usually a sign to dig in. (Tweet this.)
So when you hear the siren call of the easier new project, hear it as an invitation to roll up your sleeves and ship what you're working on rather than as an invitation to jump ship to an easier project.
Don't mistake the reality of thrashing for the pernicious belief that doing our best work requires suffering. Standing tall and really showing up is hard, but you don't have to be the archetypal suffering creative artist or change-maker. That's yet another story that's not serving any of us.