Discover more from Productive Flourishing
A newsletter and community for driven possibilitarians who are seeking full-spectrum thriving, hosted by award-winning, best-selling author of Start Finishing, Charlie Gilkey.
Over 33,000 subscribers
Empower Your Team (and Yourself) by Asking for Help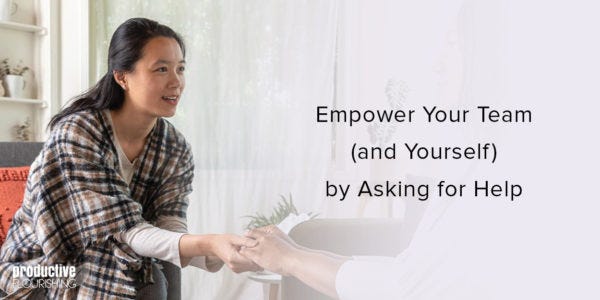 Ever since I was a child, I've put the needs of others before my own. I'm a Type Two on the Enneagram — the Helper — and I've always been highly sensitive to being a burden on others. Asking for help was simply something I didn't do.
For the first part of my life, I chased success with my good grades and scholarships, my academic studies, and my prestigious career as a professor. I pushed myself past places where I should have taken a break. I didn't seek help when I needed it. Eventually, my failing health forced me to resign. 
I wish I could say I learned to ask for help after that. 
Despite my complicated health journey, I've spent much of my energy building walls and barriers to protect the image of a strong, successful, independent woman who doesn't need help. I've kept pushing through signs of burnout to keep the old stories about me not being strong-enough-smart-enough-good-enough at bay.
And then, last July, I had a major concussion and I was forced to accept a hard truth: I needed help.
Tearing Down the Walls
I find asking for help so difficult because it's humbling. It forces you to admit that your capacity is limited, that you're not as strong as you wish you were.
But asking for help is also so human. 
The truth is, none of us can do it all on our own — and we shouldn't expect ourselves to. 
Since the concussion in July, I haven't had the energy to keep up the same walls and barriers I used to maintain. As a leader, I've had to be vulnerable with my team about my limitations, and share things about my health I would rather have kept private. 
I've had to lean into accepting help in a way that I've never done before. 
And as humbling as I found it, I began to realize my vulnerability was also transforming my role as a leader. Asking for support has helped me identify places where I probably shouldn't have been spending my time — and empowered me to be in the places where I uniquely do need to be. 
But it's also done something equally special: it's empowered my team, too.
The Ripple Effect of Asking for Help
Over the past few months, I've had several of our teammates tell me how my vulnerability has been a gift.
For one, it's given them more places that they can step in and step up. They've had more opportunities to use their skills and discover their own unique sparkle — which has elevated our company as a whole. 
Looking at it now, that makes perfect sense. Of course, as a leader, I sometimes need to step aside so my team can shine. 
The other surprising ripple effect was more subtle. When I started sharing how I needed help, it gave tacit permission for my team to be more honest about things they're struggling with. To ask for help themselves, to ask for support from other teammates, to give up things they shouldn't have been holding. 
When I refused to ask for help, I was implicitly telling my team they needed to be strong, too. When I removed those barriers, I began setting a much healthier example for us all. 
Together, we're learning to uplift and trust each other in deeper, more fulfilling ways. 
Where Do You Need to Ask for Help?
Are you holding onto the idea that not being able to do it all yourself means you're not "enough"?
I challenge you to consider this: 
Not asking for help doesn't make you stronger. Instead, it keeps you from offering your fullest talents to the world and prevents those around you from sharing their gifts with you, and others.
Where do you need to ask for help today?