Discover more from Productive Flourishing
A newsletter and community for driven possibilitarians who are seeking full-spectrum thriving, hosted by award-winning, best-selling author of Start Finishing, Charlie Gilkey.
Over 33,000 subscribers
A Special Theory of Productivity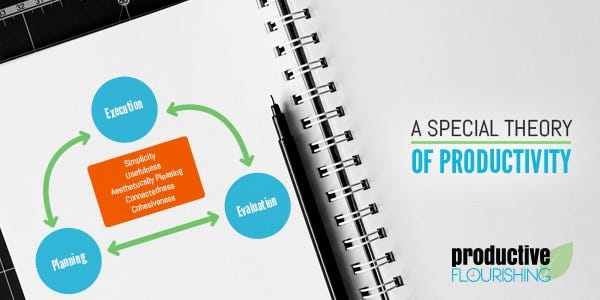 I mentioned after I completed the Daily Momentum Planner that I figured out how to write this post. Life intervened and I lost the muse. I'm currently in the process of reconstructing the train of thought and managing by time management systems, but it's going to be rather rough.
The hardest thing about articulating the ideas in this post is identifying whether I'm talking merely about software time and task management systems, or time and task management systems at large. I think that the same functions and principles are features both of software time and task management systems and of larger time and task management systems like the Seven Habits and Getting Things Done. I'll not worry too much about it right now, but let me know whether you think I need to separate the discussion between the two.
[optin-monster-shortcode id="znsxvmn1dguag6osy1i5"]
I'm also going to conflate time management systems and task management systems and just call them time management systems. Feel free to poke holes in these gaping wounds, but think more about the functions and principles, as those are the meat of this post.
What I realized after I completed the Daily Momentum Planner is that time management systems have three distinct but interrelated functions. Those functions make...
The Time Loop:
Planning: Time management systems should help you plan how to use your time according to the tasks, projects, and goals that you need or want to complete.

Execution: Time management systems should help you execute the items you have planned.

Evaluation: Time management systems should help you evaluate how you spent your time so that you can become more effective at planning and executing future tasks.
Each of the three functions feeds into the others, thus making it a loop. I know that these three are obvious facets of time management systems, but I've found, through using a lot of different systems, that many of them miss at least one of the pieces, especially the evaluative component.
My own tools fail to provide a cohesive system, as well. For instance, the Daily Productivity Heatmap is a decent tool for planning, but it really doesn't help you execute what you need to get done or evaluate what you did. It's merely a planning tool.
The Daily Momentum Planner helps with planning and execution, but not with evaluation. To use it, you'd have to refer to some other way of tracking everything you need to get done.
As long as one component of the system is missing, there will be some latent inefficiencies. Aside from the basic functions of time management systems, there are principles that make those systems better.
The Principles of Time Management Systems
Simplicity: This principle refers to ease of use. A system that has a high learning curve or requires a lot of upkeep makes the system itself something else that requires work. The goal of time management systems is to help you complete the stuff you want or need to do, not create more stuff for you to do. A system that is easy to use and learn has a far better chance at actually being implemented – which is an enabler for effectiveness.

Usefulness: A time management system should produce information that is both actionable and useful. This is where a popular new system fails for me, as it produces interesting information that's neither really useful nor actionable – i.e., it doesn't feed information that allows me to plan and execute what I need to get done.

Aesthetically pleasing: What does a time management system's being aesthetically pleasing have to do with its effectiveness? People are more likely to use things that are aesthetically pleasing. Sure, the system may work and be ugly or clunky, but the more aesthetically pleasing it is, the more likely it is to be adopted.

Connectedness: I couldn't find a catchy way to articulate this principle (not that aesthetically pleasing is catchy, either). Basically, the time management system should show how tasks, projects, and goals are connected to each other. A common flaw is that the system just produces a bare list of things to do, without showing what those things relate to. The more a time management system can connect the "in the trenches" things we need to do with the higher-level tasks, the better perspective (and hence motivation and focus) we'll have when it comes time to do those tasks.

Cohesiveness: I've already mentioned this above, but the system should be a cohesive system. For example, marking that you completed a task on a given project should propagate throughout the system. Having to refer to another document, program, or item to update that project creates productivity seepage.
These principles are components of each of the different functions. So, for instance, you could evaluate a system on the planning dimension by assessing its simplicity, usefulness, beauty, connectedness, or cohesiveness.
The trick, of course, is balancing these different principles. A beautiful and simple system has a lot going for it, but we often find that those two principles are in tension with usefulness – we want a lot of useful information as an output, while also wanting the process of getting that information to be as simple as possible and wanting that information to be pretty. It's a very difficult balance.
Looking at the Daily Momentum Planner through the functions and principles of time management, you can see its weakness: the Daily Momentum Planner focuses on the daily plan of action. It's not very cohesive outside of the daily view. For a standalone tool, it does alright, which is probably why it hasn't been nearly as popular as the Daily Productivity Heatmap, which is an evaluative tool that can fit into any other system.
What I'd like to do is create software based on of some of these ideas – something that integrates all of this based upon these functions and principles. However, I've been most productive using paper-based products; for the longest time, I eschewed computer time management systems for Dave Seah's paper-based products. I think the reason they're generally more effective is because they're simple and they help you focus on your tasks without fiddling with the computer. Yes, I'm a fiddler. But the main frustration I've found with these systems is their weakness on the evaluative piece. I want a chart, bar graph, or some other aesthetically pleasing representation of how I spent my time.
Look at the time management system you're using. Does it help you plan, execute, or evaluate? Is it simple, useful, aesthetically pleasing, connected, and cohesive? Hopefully it's not like mine, which is a scaffold of systems on top of systems. I'm tired of the upkeep, but no one system that I have looked at thus far gets the job done on its own.