Discover more from Productive Flourishing
A newsletter and community for driven possibilitarians who are seeking full-spectrum thriving, hosted by award-winning, best-selling author of Start Finishing, Charlie Gilkey.
Over 33,000 subscribers
7 Ways to Stop The Internet From Making You Stupid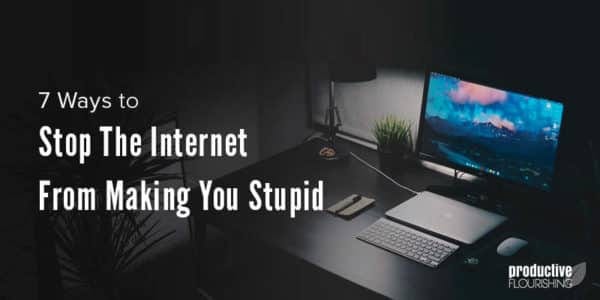 That's right, folks — the Internet is making us stupid. It's actually changing the way we think, and not for the better.
Sure, anecdotal evidence is somewhat sketchy, but I'm confident many of you have felt that the many hours you've spent online has subjected you to more content but has made you all the dumber for reading it.
You can wait until science proves what you already know to be true, or you can accept the fact that there's an inverse ratio between hours spent reading online and intellectual capabilities — er, that reading content online changes the way you think and not for the better — and start fighting for your mind now.
Here's how:
Read Great Literature
Remember when you could actually read Shakespeare without getting frustrated. I can, too. I was reading Macbeth a few weeks ago and found myself getting irritated, not with myself, but with ole' Willy. "Why can't you just come out and say what you mean, man?!"
Before Flash, list items, and hyperlinks, authors wrote to work your brain. Embedded between the lines and pages were clues to different levels of stories and insight, so that each successive reading became deeper and deeper. You weren't supposed to get it in five minutes.
Today, online writers must contend with the ever-looming threat of a click to another site. Rather than writing under the premise that they have your attention, they must write with the understanding that you must be quickly entertained or informed, and if not, you'll find another source of infotainment. If they make you work in the slightest, you're gone.
The result is that online writing and reading has become an over-technologized form of bread and circus, and even smart people become too lazy to take the time to actually digest what they're reading.
Truly great literature has passed the test of time and provides insights into the eternal human condition. There have always been hack writers, but the cost and effort required to print made it such that most of them found their way back to the fields and factories.
Today, the ease and relative inexpensiveness of putting content online makes it such that any monkey with a computer and internet access can unleash his mental flatulence upon untold millions before he gets bored and goes back to watching television.
Rather than read another Flash-animated, listed post about cat poo, visit your local library (best option) or sign up for DailyLit (better than nothing). Read the great works from people who weren't born last century and learn to understand the human condition before HTML. Your brain will thank you (eventually). PRODUCTIVE FLOURISHING
Create Something Daily
Rather than being a mere consumer of ideas, start being a producer. Creative processes ignite different parts of the brain than those required to chew gum and click Stumble.
Everyone can create something. Buy Legos and build a car. Draw a picture. Make a cabinet. It doesn't matter what you do as long as you flip the switch and start altering reality rather than consuming the alterations of others.
It doesn't even matter if the idea that you're manifesting makes any sense to anyone else. The real reason you're creating something has nothing to do with what you've created and everything to do with exercising your brain by performing creative processes. Speaking of exercising your mind...
Train Your Brain
There's a lot of scientific research that points to the fact that people who exercise their brains on a daily basis live longer, are happier, and have a tendency to be wealthier than those who don't. Those are all nice things, but it's also nice to know that people who train their brain delay the gradual descent into stupidity.
There are a slew of pen and paper games and exercises available — I've tried a lot of them. There's even one on the Xbox360 Arcade called Brain Challenge (I own it, too). By far the most entertaining and effective brain exercises I've tried have come from the good folks over at Lumosity. Give Lumosity a try for a few weeks and you'll be sharpening your mind and having fun in no time.
Exercise Your Body, Too
It has also been shown that physical exercise improves cognition and memory. So, while running may make you generally hate life, your brain loves it.
Make Music
Creating music does more for you than giving you a reason to be emo or becoming popular on YouTube.
Creating music taps into processes that are rarely jointly used by other types of creative processes due to the utilization of your senses. Combine sight and feel with the standard visual and cognitive centers and you get a very powerful workout for your brain.
Music soothes the savage beast, but it also makes her smarter.
Talk to Offliners
Believe it or not, there are intelligent, insightful people who don't have part of their psyches encoded into zeroes and ones and saved on servers in Connecticut. Stop trying to convince them into plugging in and instead unplug and interact with them on their terms — i.e. outside of a chat room, email, or IRC channel.
Doing this will make your brain turn as you try to uphold a conversation that doesn't have 140-character limits. It also causes a lot of exercise as you blindly try to draw pictures in the air and use your hands to express ideas through gestures rather than by typing.
Different linguistic centers will activate, different visual parts of your brain will go off as you try to understand people's facial expressions, and you might actually enjoy it more than poking friends on Facebook if you give it a chance.
Go Outside
Going outside excites the mind due to the novelty of the experience. Ever notice how when you're going someplace new, it seems to take a lot longer going there than coming back? This is because you're keenly aware of the novelty of the situation and it's far more taxing on your brain.
Walk down a different street. Go down a different bike trail. Drive through a new part of town. Hell, go into a different liquor store.
Your brain will go into overdrive trying to sort together the new bits of information and you'll be all the smarter for it, not accounting for how much alcohol you get.
As more and more of our lives go online, we will become more and more stupid if we don't make active efforts to keep our wits. The Internet is a tool, but if we don't watch it, it'll make tools of us all.