Discover more from Productive Flourishing
A newsletter and community for driven possibilitarians who are seeking full-spectrum thriving, hosted by award-winning, best-selling author of Start Finishing, Charlie Gilkey.
Over 33,000 subscribers
6 Ways to Level Up Your Leadership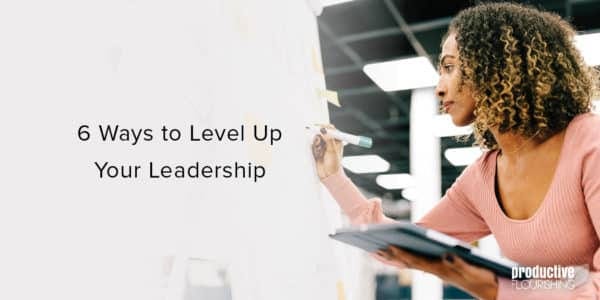 There comes a point during your work for a company — one that you know you want to stick with and grow with — when you feel prepared to take on more challenges and to move up to a more senior leadership position. Regardless of how long you've been in your current role, you know that you can help your company grow by taking on more responsibilities, whether that's because of your past experiences, the foresight you have in your current position, or some combination of the two.
So, how do you go about starting the process of leveling up your leadership within your company? Here are six things to consider:
1. Rally Your Courage
Transitioning from any role into a bigger leadership position takes an immense amount of courage. It may also feel incredibly daunting, as your future path has not been laid out just yet, so you can't really see exactly how it'll go or who you'll be serving. But that's OK. Having the courage and confidence to know that you've got what it takes will take you a long way.
2. Gather Your Success Pack
When considering how you want to approach the conversation around becoming more of a leader in your company, you'll likely encounter some sticky spots. So the first thing you need to do, well before the conversation even starts, is to bring in your success pack. Continue to reach out and ask them for support. We often forget that these are the exact people who want to help, especially when we are still understanding the nuances of a new role.
3. Embrace Your Relevant Life Experiences, Even the Uncomfortable Ones
Unless you know what you have to give, you're going to have a hard time giving it. So, embrace and understand your story and your lived experiences. What you've learned on your own unique path is oftentimes what people need; what you've done matters. Maybe you feel shame around not following a traditional path, or that you've had difficult moments you've had to pull yourself out of. But those exact experiences? That's where some of our best work and perspectives come from. Lean into your unique past, because your prior persona is a big part of who you are right now, in the present.
4. Audit What You Already Know and Do, and Then Start Slowly Shifting
When it comes to taking the step into a bigger leadership role, you may feel insecure thinking about any sort of training process around it. When that overwhelming feeling kicks in, take some time to think about what you've already done, and how all of your skills and experience fall into your area of expertise. That way, you can always come back to this list and talk about how you can build upon your already established skills. By starting with what you've already done and given to your clients or colleagues, you can make small shifts to elevate what you already do, bringing in more of what you want and love to do.
5. Don't Do Everything at Once
There's no need to prove everything to everyone all at once. It's better to execute one new project thoroughly and successfully, than start four that end up half-baked and languish incomplete for the foreseeable future. Plus, you won't be nearly as stressed. Avoiding overwhelm means that you can grow sustainably, work on new projects with more purpose, and show your competence with more calm.
6. Teach, Learn, and Grow from a Place of Service
You know a lot, and you may feel entitled to a promotion, a role change, or a raise. But by keeping in mind that your desire to grow comes from a place of service, rather than ego, you'll be able to genuinely show your value. Without dulling your shine, show off your skills humbly.
It can certainly feel intimidating to take that leap into leadership, but you don't have to do it all at once. By taking the time to take small, deliberate steps, you'll be able to gain the experience you crave and the compensation you deserve for your skills, talent, and expertise.
The Productive Flourishing Academy is your success pack of fellow leaders, managers, and business owners. In this exclusive online community, you'll have the chance to connect during coworking sessions, attend special weekly events like our Leaders Lab, receive focused coaching and support, and so much more. Learn more and sign up today.