Discover more from Productive Flourishing
A newsletter and community for driven possibilitarians who are seeking full-spectrum thriving, hosted by award-winning, best-selling author of Start Finishing, Charlie Gilkey.
Over 33,000 subscribers
3 Questions to Ask Before You Hit Reset on Your Business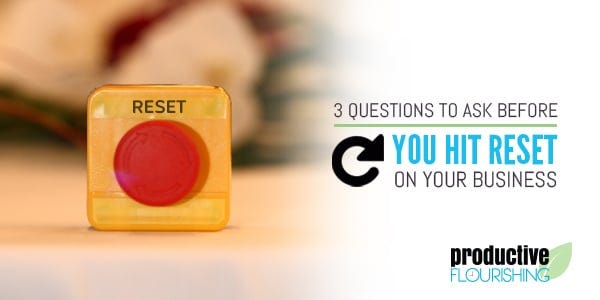 Drive they business, let it not drive thee. - Benjamin Franklin
There are two occasions in which many small business owners want to press reset on their business: when things are going far worse than hoped and far better than planned. When things are going bad, we're worried that we're not going be able to keep going. When they're unexpectedly great, we we worry that we're not going to be able to keep up.
Before you slam on the brakes or eject out of the business in haste, take some time to answer these three questions:
What have you done over the last quarter that a) was successful, b) aligned with your business's values, and c) you'd like to keep doing in the future? This question is about what to keep.

What did you do over the last quarter that didn't add value to you, your business, or your customers? Why wasn't it value-added? (Make sure to ask a lot of questions around giving the activity enough time, energy, and attention. Hyper-creativity stifles the growth of many a small business.) This question is about what to drop.

What would you like to add to your business activities over the next quarter that increases cashflow, opportunity, or visibility? This question is about what to add.
While any time is a great time to ask these questions, the start of a new quarter - January, April, July, or October - is an especially relevant time to do so.
The answers to these questions give you a pretty good idea of what needs to change. Remember, "What" comes before "How." (Yes, that's obvious when stated, but how many of us ask How? before we ask What?)
Big thanks to Pam for nudging me to publish this one rather than just using it behind the scenes.